Funding Requests from Tri-County Nonprofits Increase 13 Percent
     WATERTOWN —  The Youth Philanthropy Council of the Northern New York Community Foundation has awarded $20,000 in grants to five North Country nonprofit organizations that will support a wide range of community programs and projects.
    Each year, the Council reviews requests from tri-county nonprofits to fund projects or initiatives that positively impact the quality of life in Jefferson, Lewis, or St. Lawrence counties. In addition to researching and recommending grants, Council members visit several nonprofit organizations, learn about grantee stewardship, community investment and leadership, and nonprofit sustainability.
    The Council received 27 funding proposals during the 2021-2022 program year with six agencies invited to present requests to the full Council. Members delivered grant recommendations to the Community Foundation Board of Directors during its recent quarterly meeting and the Board unanimously approved the full slate of grants. 
    "For over a decade now, students consistently find this program is one of the most transformative leadership experiences available. We know they have a greater understanding of and appreciation for their community through this experience," said Rande Richardson, Community Foundation executive director. "These young adults will be more likely to give back and contribute wherever they ultimately land and have a head start equipped with the right skills." 
    Council Vice Chair Anmolika Bolla, a third-year member and 2022 Watertown High School graduate, said "this year's YPC grant selection process was like no other. We had an incredible grant pool, blooming with diversity in all aspects." 
     "It is always awarding to give back to the community, especially through involvement in the Youth Philanthropy Council. YPC sets the stage for young individuals like me to have an adult lens for the community's needs. Every YPC year is one full of insight, awareness, and service," Miss Bolla said. "After months of thoughtful discussion and analysis, we could not be more proud. Each of our grant recipients can make a meaningful difference in our tri-county area. These nonprofits have excelled in igniting our passion in their projects and missions, and we are beyond excited to see what lies ahead. It has been an honor to serve on YPC for the past three years and give back to nonprofits that do the most for the betterment of our community."
    The following Youth Philanthropy Council grants were approved:
    Jefferson County SPCA — $5,000 to help manage an overpopulation of feral cats through its Trap, Neuter, and Release (TNR) program. Free-roaming cats are humanely trapped by community members and cat colony managers, spayed, or neutered, and returned to the place where they were living. Grant support will deploy TNR services to up to three smaller cat colonies, approximately 60 cats, within Jefferson County. 
    Society of the United Helpers — $5,000 to support training and certification of up to eight Direct Support Professionals to administer medications for adult residents with developmental, intellectual, or brain injury disabilities who live in group homes. Training includes a 40-hour program and certification exam. Successful completion of the course provides career growth to current DSPs and enhances the quality of care for residents.
    Adams Revitalization Committee — $4,500 to support architectural and design planning for a new community playground at the former Adams Elementary School off Wardwell Street. Project planning will require extensive research, collaboration, evaluation, and community outreach to engage the entire community in new and safe recreational opportunities for all. 
    The ESF College Foundation (SUNY College of Environmental Science and Forestry) — $4,500 to support the Muskellunge Citizen Science program. The college is organizing a community of concerned anglers to participate in a tracking assessment and recovery of the St. Lawrence River muskellunge population. Grant funding will help purchase Passive Integrated Transponder (PIT) kits for participating anglers. SUNY ESF manages the Thousand Islands Biological Station (TIBS) Observing System on Governors Island near Clayton. 
    Canton Free Library — $1,000 to update the collection at the library's Rensselaer Falls branch, which is one of just a few public spaces in the rural village and is known for being a second home to local teens and sometimes serves the local Amish community. Funding will help improve services and visibility for the one-room library.
    Council Grants Committee Chair Katherine Banazek, a third-year member and 2022 South Jefferson High School graduate, noted how this year's Youth Philanthropy Council has been exceptionally passionate, devoted, and professional. 
     "The Council exposes a diverse group of students to inspiring organizations in our local area, forming a lasting impact and value for philanthropy," Miss Banazek said. "The five selected projects totaling $20,000 were chosen for their ability to address critical issues facing our tri-county area, each focusing on a different facet of community need. Many worthy, impressive requests were presented to the council this year, but through hard work and careful deliberation, the council identified the projects with the most valuable impact."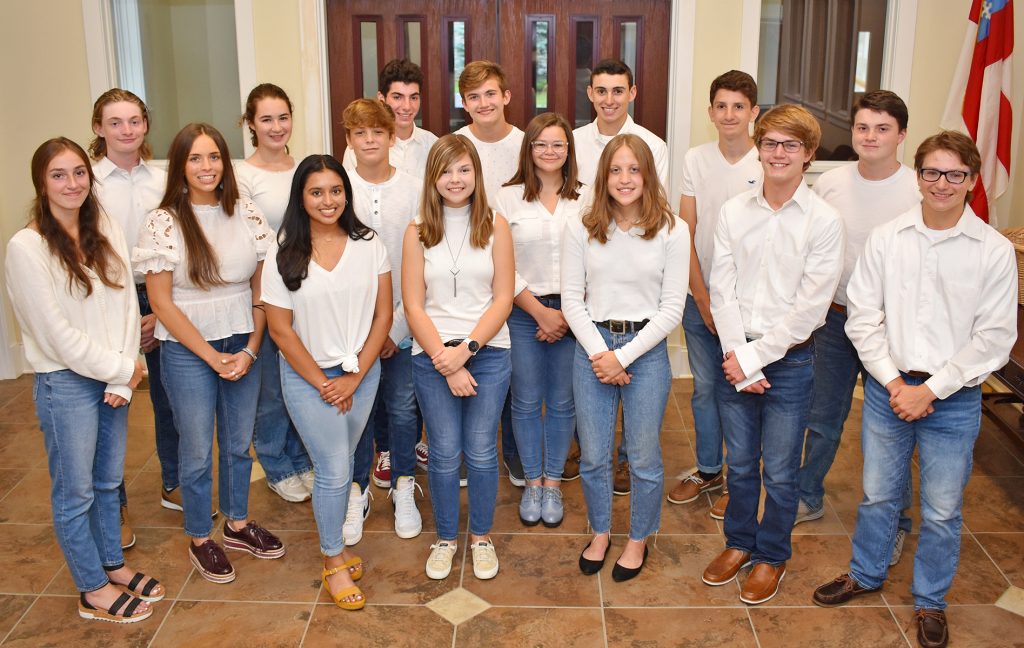 The Youth Philanthropy Council was chartered in 2010 to promote positive youth development and engage young people in meaningful activities that build their skills while educating them about community philanthropy and its impact on Northern New York. Council members grow to become problem solvers as they engage in lessons that may never be taught in a classroom.
    A team of volunteers and Community Foundation staff manage the program, including Senior Advisor Emily Sprague, a retired Watertown City School District teacher who also serves on the Foundation Board of Directors. Mrs. Sprague has volunteered to lead the program since its inception. Advisor Leslie Renzi, a volunteer who has helped mentor Council students for the past three years. Mrs. Renzi's son, Jude, is a Council alumnus. Community Foundation team member Kraig Everard, Director of Stewardship and Programs, serves as the staff advisor for the program. Mr. Everard joined the Foundation team in 2020.
    The Council's grant program is made possible through support from Watertown Savings Bank, Renzi Foodservice Charitable Foundation, RBC Wealth Management, and gifts made to the Friends of the Foundation Annual Community Betterment Fund.
    Since its inception, the Community Foundation's Youth Philanthropy Council has awarded 122 grants totaling $205,070 in support to nonprofit organizations that serve tri-county residents, and nearly 140 students from seven different North Country high schools have served as Council members.
    This year's Council includes representatives from General Brown High School, South Jefferson High School, and Watertown High School. Each council member is in his or her sophomore, junior, or senior class. Representatives from each school district are: General Brown High School: Kaylee Fields, sophomore; Lucas Lavarnway, junior. South Jefferson High School: Katherine Banazek, senior and Grants Committee Chair; Zachary Blevins, junior; Jack Buckingham, junior; Hailyn Buker, senior and Service Committee Chair; Romi LaClair, senior and Council Chair; Jack Mangan, junior; Owen Newton, junior; Sidney Wheeler III, senior and Communications Committee Chair. Watertown High School: Ella Arnott, senior and Council Secretary; Trey Augliano, junior; Anmolika Bolla, senior and Council Vice Chair; Zachary Kilburn, junior; and Adelaide Weir, junior. 
    The Council reconvenes at the start of the new school year in September. It will accept 2023 funding proposals in the fall. Information about how to apply will be announced at that time.
About the Northern New York Community Foundation
     Since 1929, the Northern New York Community Foundation has invested in improving and enriching the quality of life for all in communities across Jefferson, Lewis, and St. Lawrence counties.
     Through partnerships with businesses and organizations, charitable foundations, and generous families and individual donors, the Community Foundation awards grants and scholarships from an endowment and collection of funds that benefit the region. Its commitment to donors helps individuals achieve their charitable objectives now and for generations to come by preserving and honoring legacies of community philanthropy while inspiring others.
     The Community Foundation is a resource for local charitable organizations, donors, professional advisors and nonprofit organizations. It also works to bring people together at its permanent home in the Northern New York Philanthropy Center to discuss challenges our communities face and find creative solutions that strengthen the region and make it a great place to live, work, and play.