Boldt Descendants Continue Support of Jefferson County Students for Two Years of Post-Secondary Study
     HEART ISLAND — Three Jefferson County high school members of the class of 2023 were honored this month as recipients of the Northern New York Community Foundation George C. Boldt Scholarship.
     Chantell L. Beach, Watertown High School, Cameron L. Derouin, Sackets Harbor High School, and Sadie S. Pasinello, South Jefferson High School, were each awarded a two-year $10,000 scholarship during a reception at Boldt Castle with George C. Boldt's great-great-grandson, Charlie Goodridge, and family. Brayden P. Wiley, a member of the Thousand Islands High School class of 2022 who was named a Boldt Scholarship recipient last year, was also recognized. Brayden was unable to attend last summer's Boldt Scholars recognition event.
     The scholarship honors the legacy of the castle's builder, noted hotelier and philanthropist George C. Boldt Sr. Charlie Goodridge's father, Malcolm Goodridge, led efforts to establish the scholarship with other descendants of Mr. Boldt and dozens of North Country donors who have made gifts to the scholarship fund at the Community Foundation.
     "Student achievement and the Boldt heritage are highlighted together each year, made possible by the support and inspiration of the Goodridge family, along with many others," said Rande Richardson, Community Foundation executive director. "The symbolism of this scholarship is powerful, and it was especially meaningful to return to the Castle this year to celebrate all that the scholarship represents."
     Mr. Goodridge congratulated the Class of 2023 and thanked those who have helped build the scholarship and, with his daughter, Gracelyn, presented awards to this year's recipients. A permanent plaque that pays tribute to founding donors was installed in Boldt Castle in 2019 along with a plaque that names recipients of the Boldt Scholarship. The Thousand Islands Bridge Authority, which owns and operates Boldt Castle as a leading tourist destination, has generously supported the scholarship program since its inception.
     "It's great to see this year's students, along with several prior recipients, recognized, not so much for their academics, but for their hard work, commitment, passion for their interests, and willingness to not give up when life throws them a curveball," Charlie Goodridge said. "Life is all about a positive attitude, and they certainly represent this in their achievements."
     George C. Boldt, who immigrated to the United States from Prussia at age 13, believed in people who showed promise throughout his life in business. Each of the new scholarship recipients have persevered while facing obstacles in their young lives, overcoming challenges as they begin their college studies.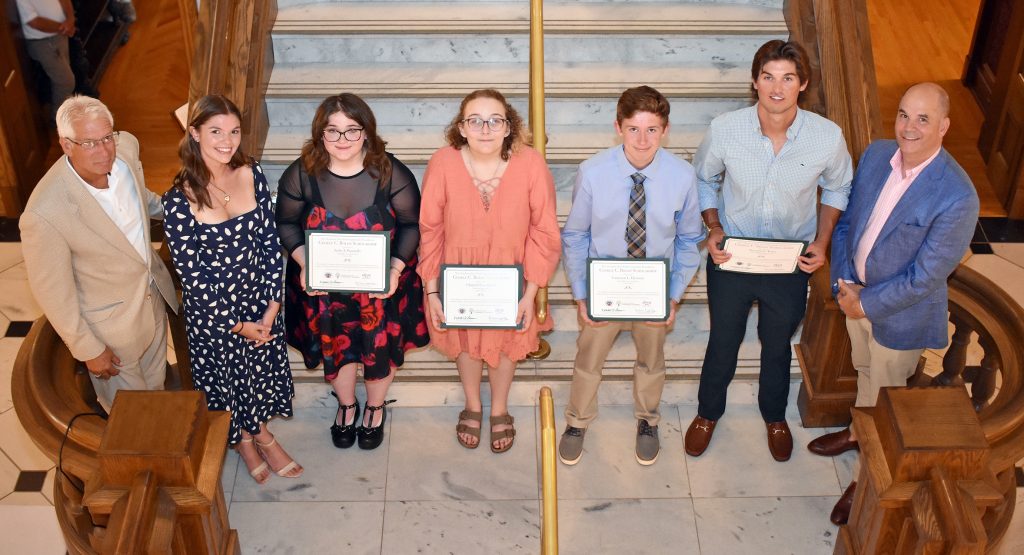 About this year's George C. Boldt Scholars
     Chantell L. Beach graduated in June from Watertown High School with a Regents diploma. She will attend Jefferson Community College this fall to study human services. Chantell aspires to become a therapist to help children, teens, and adults "to make it a litter easier for people who struggle and help find solutions for them." She is a National Honor Society member and participated in concert band. She also competed for six years in softball and has been a volunteer at the Jefferson County SPCA. Chantell is the daughter of Heather Soluri and Kevin Beach Sr., Watertown.
     Cameron L. Derouin graduated in June from Sackets Harbor High School with a Regents diploma. He will attend Jefferson Community College this fall to study fire protection technology. Cameron aspires to serve as a full-time firefighter/EMT for either the City of Watertown or Fort Drum. He is an active volunteer member of the Sackets Harbor Fire Department and Ambulance Service. Cameron is a two-sport athlete, competing for three years in varsity soccer and baseball and serving as a soccer team captain in his senior year. He is also a HOBY Leadership participant and an Athletic Booster Club member. Cameron is the son of Sarah and Derek Derouin, Sackets Harbor.
     Sadie S. Pasinello graduated in June with a Regents diploma from South Jefferson Central School. She will attend Jefferson Community College this fall to study liberal arts. Sadie aspires to a career as an elementary art teacher and hopes to work at a school in the North Country. During high school, she participated in the art and drama clubs and has already completed two college art courses at Jefferson Community College. She is drawn to a teaching career to help children succeed. Sadie is the daughter of Chasity Worden and Daniel Pasinello, Adams Center.
     Brayden P. Wiley graduated in June 2022 with an Advanced Regents Diploma. He attends SUNY Oswego where he studies business and finance and plans to pursue a career in financial management. He is a National Honor Society member and, during highs school, participated in the Booster Club, the American Legion Junior Auxiliary, Sources of Strength, and the Yearbook Committee. Brayden was a multi-sport athlete who competed for four years in varsity basketball, two years in varsity football and baseball, and one year in varsity lacrosse. He was named an all-star in football, basketball, and baseball. Brayden is an active community volunteer, serving as a basketball coach and referee for the Cape Vincent Youth Commission. He has also volunteered for the Cape Vincent Chamber of Commerce, the Cape Vincent Fire Department, and the American Legion of Cape Vincent. Brayden is the son of Dorian Eyles, Cape Vincent.
About the George C. Boldt Scholarship 
     Following a summer 2017 family gathering at Boldt Castle, descendants of famed hotelier George C. Boldt, Sr., led by Mr. Goodridge, decided to create a permanent scholarship fund to forever benefit Jefferson County students. The Northern New York Community Foundation was selected to administer the scholarship, which honors Mr. Boldt's legacy of service. 
     Mr. Boldt, (1851-1916) a one-time proprietor of the world-famous Waldorf Astoria Hotel in New York City, is known for his influence on development of the urban hotel as a civic social center and luxury destination. He and his family also left a philanthropic legacy that, among other things, emphasized education. 
     In 1922, Mr. Boldt's son, George C. Jr., established a scholarship program at Cornell University that bears his father's name. According to an April 24, 1923, story in the "Cornell Daily Sun," the elder Mr. Boldt "always sympathized with an eager student whose only impediment to higher education was a lack of funds." During his lifetime, Mr. Boldt also helped put at least 75 people through college, doing so anonymously. It is fitting that this legacy continues through the Northern New York Community Foundation George C. Boldt Sr. Scholarship. 
     Jefferson County residents pursuing full-time undergraduate study — either in college, technical, vocational, or trade school — may apply. Applications are accepted from high school seniors or nontraditional students. The scholarship was expanded in 2021 to a two-year award of up to $10,000 with three awards this year. Recipients are chosen based on academic performance, personal data, essay scores, and letters of recommendation. Students should show promise and potential and have demonstrated an interest in and service to their communities.
     Past recipients of the Northern New York Community Foundation George C. Boldt Scholarship include, from the Class of 2019: Matthew Ford and Dylan O'Connor, Alexandria Central High School, and Abrianna Parson, Watertown High School; from the Class of 2020: Ashley St. Croix, Thousand Islands High School, and Mya Weaver and Makayla Witt, Alexandria Central High School; from the Class of 2021: Hayden Augliano, Watertown High School, Jason J. Badalato, Carthage Senior High School, and Gabrielle "Ellie" Hyde, Alexandria Central High School; and from the Class of 2022: Elizabeth Ann Marie Hellings and Cody M. Wade, Indian River High School, and Brayden Philip Wiley, Thousand Islands High School.
About the Northern New York Community Foundation
     Since 1929, the Northern New York Community Foundation has invested in improving and enriching the quality of life for all in communities across Jefferson, Lewis, and St. Lawrence counties.
     Through partnerships with businesses and organizations, charitable foundations, and generous families and individual donors, the Community Foundation awards grants and scholarships from an endowment and collection of funds that benefit the region. Its commitment to donors helps individuals achieve their charitable objectives now and for generations to come by preserving and honoring legacies of community philanthropy while inspiring others.
     The Community Foundation is a resource for local charitable organizations, donors, professional advisors and nonprofit organizations. It also works to bring people together at its permanent home in the Northern New York Philanthropy Center to discuss challenges our communities face and find creative solutions that strengthen the region and make it a great place to live, work, and play.