Recognition, Appreciation Dinner Honors Students, Founding Donors
     CANTON — Ten St. Lawrence County members of the class of 2024 were recently named as recipients of the Northern New York Community Foundation Evergreen STEM Scholarship. 
     Students are awarded the scholarship due to their interest and intent to study in a science, technology, engineering, or mathematics field while in college. Students apply during their junior year of high school and are selected in the summer. Recipients will receive a one-year $3,000 scholarship toward their freshman year of college next fall.
     The Evergreen STEM scholarship is made possible thanks to the generosity of former Gouverneur resident and Massena native Charles Owens and his late wife, Higouhi "Hi" Owens. The scholarship is a permanent fund of the Community Foundation and provides $30,000 annually for high school students who live in St. Lawrence County. Since its inception, 80 students have been awarded Evergreen STEM scholarships totaling $240,000 in educational support.
     "This scholarship continues to fulfill its objective of supporting and encouraging students who are considering pursuing studies in STEM fields. The impact remains widespread across St. Lawrence County through the 80 students who have received scholarships," said Rande Richardson, Northern New York Community Foundation executive director. "It is deeply meaningful to the Owens family and the Community Foundation to see these students progress through their education, with some already actively employed in their chosen endeavors."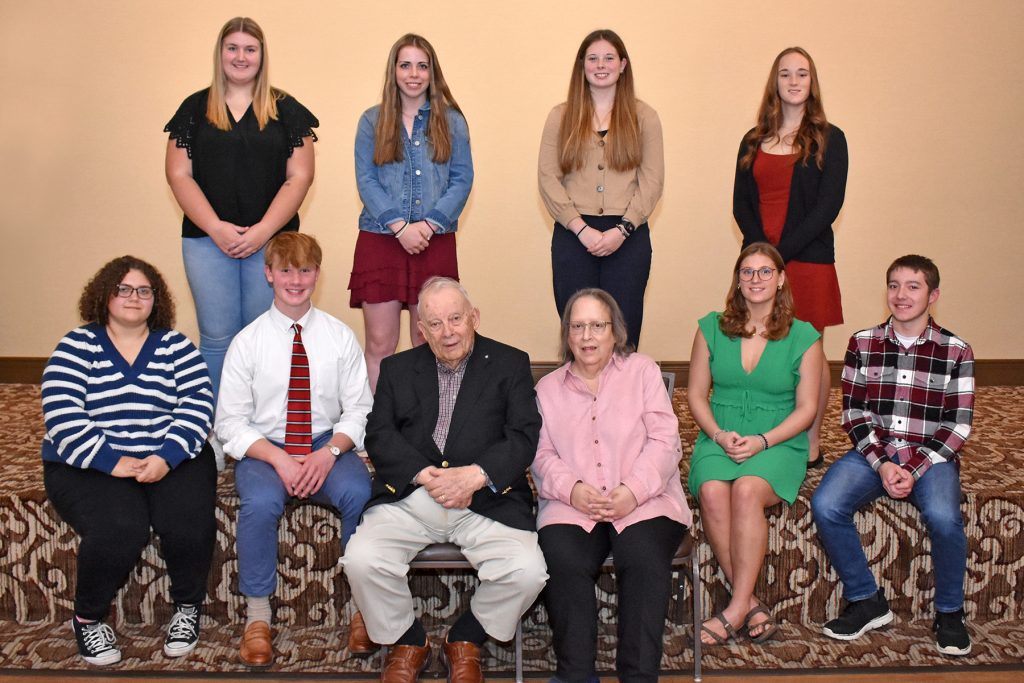 Students recently had a chance to meet and thank Mr. Owens and his daughter, Sandy Owens Hosier, at a scholarship recognition and appreciation dinner in Canton. Parents, school guidance counselors, and several district administrators also attended.
     Mrs. Hosier is a retired English teacher who spent 33 years teaching in the Port Byron School District. 
     This year's students are pursuing post-secondary education in nursing, education, engineering, biology, bio-chemistry, mathematics, and medicine, among others. 
     Mr. Owens and his wife established the scholarship at the Community Foundation in 2014 to inspire high school students to focus on post-secondary studies and careers in STEM while encouraging them to pursue employment opportunities in the North Country. Mr. Owens spent his professional life as a pharmacist and later in senior management for Kinney Drugs, retiring in 1994. The first scholarships were awarded in 2016. During that time, others have made contributions to help build the permanent fund.
2023-2024 Evergreen STEM Scholars:
Stephanie Andreescu, Potsdam Central School, biology
Rylee C. Balster, Ogdensburg Free Academy, mathematics
Erica M. Bates, Madrid-Waddington Central School, nursing
Morgan E. Cole, Colton-Pierrepont Central School, sciences
Theodore K. Hughes, Potsdam Central School, chemistry &and pre-health
Austin M. Lacey, Gouverneur Central School, chemistry/biochemistry
Keegan C.G. McGaheran, Potsdam Central School, veterinary studies
Hailey Meagher, Harrisville Central School, engineering
Kaleigh M. Recore, St. Lawrence Central School, medicine
Maya W. Thomas, Hugh C. Williams High School, Canton, pre-med
About the Northern New York Community Foundation
     Since 1929, the Northern New York Community Foundation has invested in improving and enriching the quality of life for all in communities across Jefferson, Lewis, and St. Lawrence counties.
     Through partnerships with businesses and organizations, charitable foundations, and generous families and individual donors, the Community Foundation awards grants and scholarships from an endowment and collection of funds that benefit the region. Its commitment to donors helps individuals achieve their charitable objectives now and for generations to come by preserving and honoring legacies of community philanthropy while inspiring others.
     The Community Foundation is a resource for local charitable organizations, donors, professional advisors and nonprofit organizations. It also works to bring people together at its permanent home in the Northern New York Philanthropy Center to discuss challenges our communities face and find creative solutions that strengthen the region and make it a great place to live, work, and play.