Project Takes Aim at Food Insecurity by Helping to Restock Region's Food Pantries, Backpack Programs
     WATERTOWN — The LEAD Council of the Northern New York Community Foundation invites local students at tri-county schools and organized student groups in Jefferson, Lewis, and St. Lawrence counties to participate in a creative and impactful project to help reduce food insecurity across the North Country.
     "Canstruction for Northern New York" is a group activity to encourage students to team up and construct a fun, themed structure made of donated canned food and other nonperishable food items or hygiene products to support a local food pantry or backpack program of their choice. 
     Joining the competition is easy through an online registration at bit.ly/CanstructionRegistration. Teams must register to participate by Monday, March 27, and select the local food pantry or backpack program that will receive team donations.
     "I'm really looking forward to seeing what our local students will do to participate in this endeavor and help meet the needs of local food pantries and backpack programs," said Kerry Kennett, LEAD Council member and South Jefferson Central School math teacher.
     Participating students will have a chance to support essential needs for local residents while learning values of community philanthropy and building school spirit around a project that will make a meaningful difference in the lives of others. Overall, the project aims to raise awareness about hunger and food insecurity in our communities. The initiative will empower students to collaborate and inspire their school and community to join in the effort.
     Examples of canstruction projects may be found on the project web page at bit.ly/CanstructionNNY. Canstruction teams will compete for one of three chances to present a $500 grant to a nonprofit they care about most. A winning team will be named in the following three categories: "Top Collection Award" (most items donated/collected), "Best Design Award," and "People's Choice Award" (selected by an online vote).
     Each winning team will award a $500 grant to their chosen federally classified 501(c)3 nonprofit organization serving residents of Jefferson, Lewis, and St. Lawrence counties. Contact Max DelSignore, Community Foundation assistant director, at max@nnycf.org for additional guidelines on nonprofit selection. 
     All canstruction projects must be submitted by Friday, April 21. Complete project rules, including a sample planning calendar with key project deadlines, is available on the project web page at bit.ly/CanstructionNNY. The Community Foundation will provide a follow-up form to each registrant explaining the process for project submissions.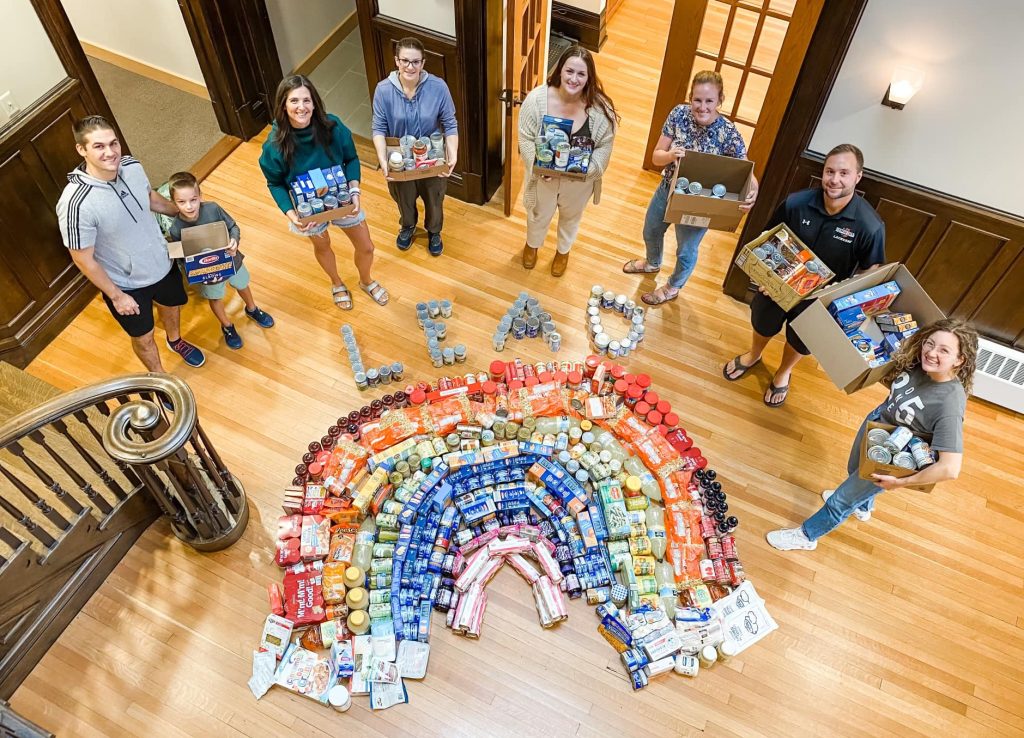 About the LEAD Council
     The LEAD Council was chartered in 2014 as advisory committee of the Northern New York Community Foundation empowered to identify and address strategic needs in Jefferson, Lewis, and St. Lawrence counties. The Council is comprised of 18 young professionals who live and work in the tri-county area with an interest in enhancing the quality of life for all in the North Country. LEAD is an acronym that reflects four important guiding principles of the Community Foundation's work: Leadership, Engagement, Access, and Direction.
     The Council works to gain a deeper understanding of community needs, issues, and the nonprofit sector to augment the Community Foundation's mission and work. Since its inception, the LEAD Council has developed several creative initiatives to benefit the community and region. Strategic efforts include its "LEADing the Way" volunteer program, enhancements to child care and early childhood development
programs, hyper-local support for anti-poverty initiatives, community giving challenges, and building philanthropic values in the region's schools through student-led projects.
About the Northern New York Community Foundation
     Since 1929, the Northern New York Community Foundation has invested in improving and enriching the quality of life for all in communities across Jefferson, Lewis, and St. Lawrence counties.
     Through partnerships with businesses and organizations, charitable foundations, and generous families and individual donors, the Community Foundation awards grants and scholarships from an endowment and collection of funds that benefit the region. Its commitment to donors helps individuals achieve their charitable objectives now and for generations to come by preserving and honoring legacies of community philanthropy while inspiring others.
     The Community Foundation is a resource for local charitable organizations, donors, professional advisors and nonprofit organizations. It also works to bring people together at its permanent home in the Northern New York Philanthropy Center to discuss challenges our communities face and find creative solutions that strengthen the region and make it a great place to live, work, and play.