Chet's Wife, Nancy, Presents Aidan Mills and Ashley Rose with First Awards
     WATERTOWN — Aidan M. Mills and Ashley G. Rose were recently named the first recipients of the Northern New York Community Foundation Chester F. "Chet" Gray Scholarship.
     Aidan is a 2021 Watertown High School graduate who recently began his sophomore year at SUNY Albany where he studies human biology. Aidan plans to continue his education in medical school after he earns a bachelor's degree. He aspires to become a radiologist. He is the son of Kristyna and James "Jim" Mills, Watertown.
     Ashley is a 2022 LaFargeville High School graduate who will begin her freshman year later this month at Jefferson Community College. Ashley plans to continue her undergraduate studies at SUNY Potsdam where she will study adolescence education, with an emphasis on social studies and history. 
     She aspires to become a middle or high school social studies teacher and hopes to teach in a Jefferson County district. During high school, she also completed the auto body repair course at Jeff-Lewis BOCES, an experience she described as "truly wonderful, from having an excellent teacher, to working with amazing classmates." While teaching is her main career goal, Ashley would like to own her own automotive detailing business and plans to take business courses at JCC to advance her interest. She is the daughter of Rebecca and Kevin Rose, Clayton.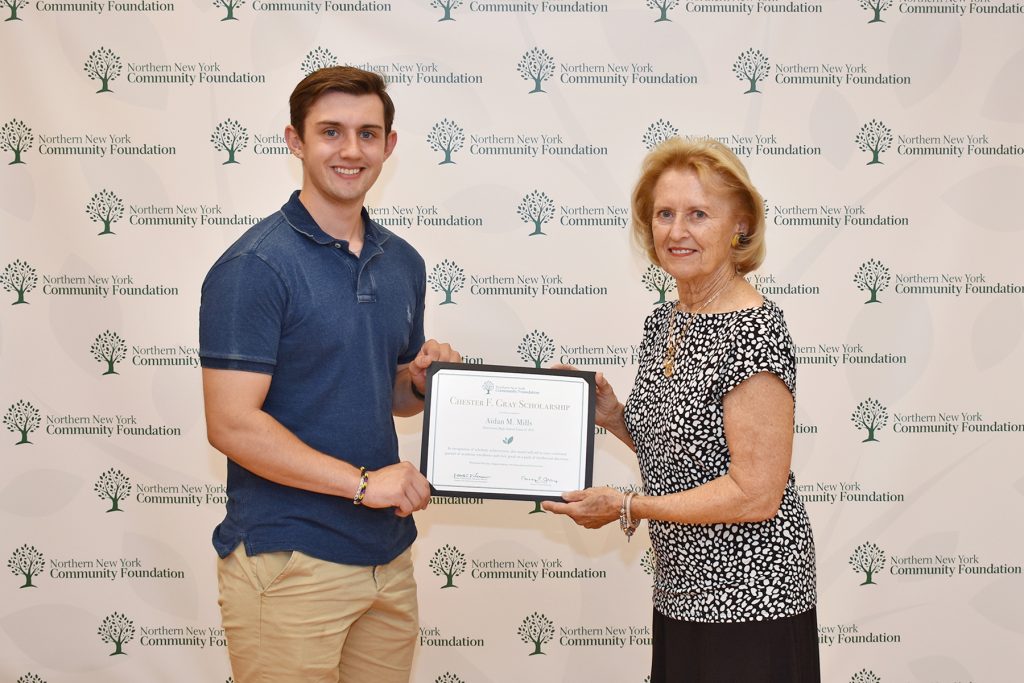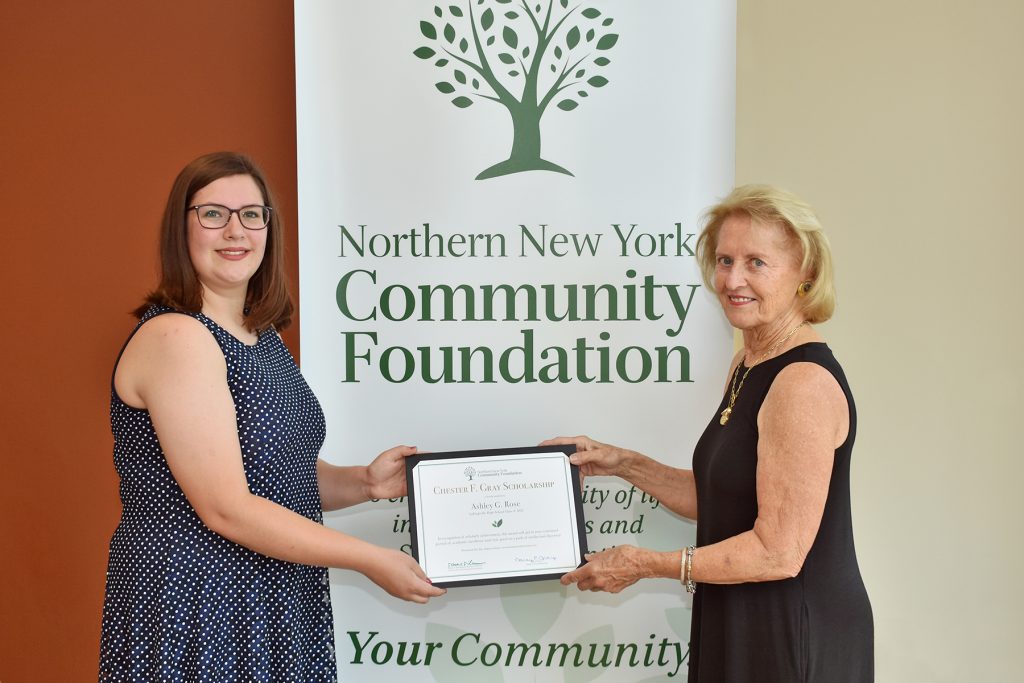 Aidan and Ashley recently met Chet Gray's wife, Nancy Gray, who presented each of them with a $500 scholarship. Nancy splits her time between summers in Thousand Islands Park and winters in Florida.
     Chet Gray was deeply devoted to family, community, and country, volunteering to serve upon graduation from high school in the U.S. Army Air Corps during World War II as part of the Greatest Generation. After his Army service, Chet graduated from Ithaca College and enjoyed a successful career in education as a teacher and elementary, junior high, and high school principal, before moving to central administration primarily in New York's Hudson Valley region. 
     Upon retirement from education, Chet and his wife, Nancy, moved to Watertown and purchased the Watertown Tennis Club in 1979. Together, they turned a limited-use club into a full-range athletic club. The Watertown Health and Racquet Club served as a resource for many community activities. Chet always sought ways to strengthen his community through a life of service to causes that were meaningful and special to him.
About the Northern New York Community Foundation
     Since 1929, the Northern New York Community Foundation has invested in improving and enriching the quality of life for all in communities across Jefferson, Lewis, and St. Lawrence counties.
     Through partnerships with businesses and organizations, charitable foundations, and generous families and individual donors, the Community Foundation awards grants and scholarships from an endowment and collection of funds that benefit the region. Its commitment to donors helps individuals achieve their charitable objectives now and for generations to come by preserving and honoring legacies of community philanthropy while inspiring others.
     The Community Foundation is a resource for local charitable organizations, donors, professional advisors and nonprofit organizations. It also works to bring people together at its permanent home in the Northern New York Philanthropy Center to discuss challenges our communities face and find creative solutions that strengthen the region and make it a great place to live, work, and play.