Alexandria Central School Graduate Emmalee White Awarded $1,000 Scholarship
     CLAYTON — Emmalee R. White was recently named the first recipient of the Mary Bastian Memorial Foundation Scholarship of the Northern New York Community Foundation.
     Emmalee graduated in June from Alexandria Central School. She began her freshman year in August at SUNY Potsdam where she studies early childhood education. She aspires to become an elementary school teacher.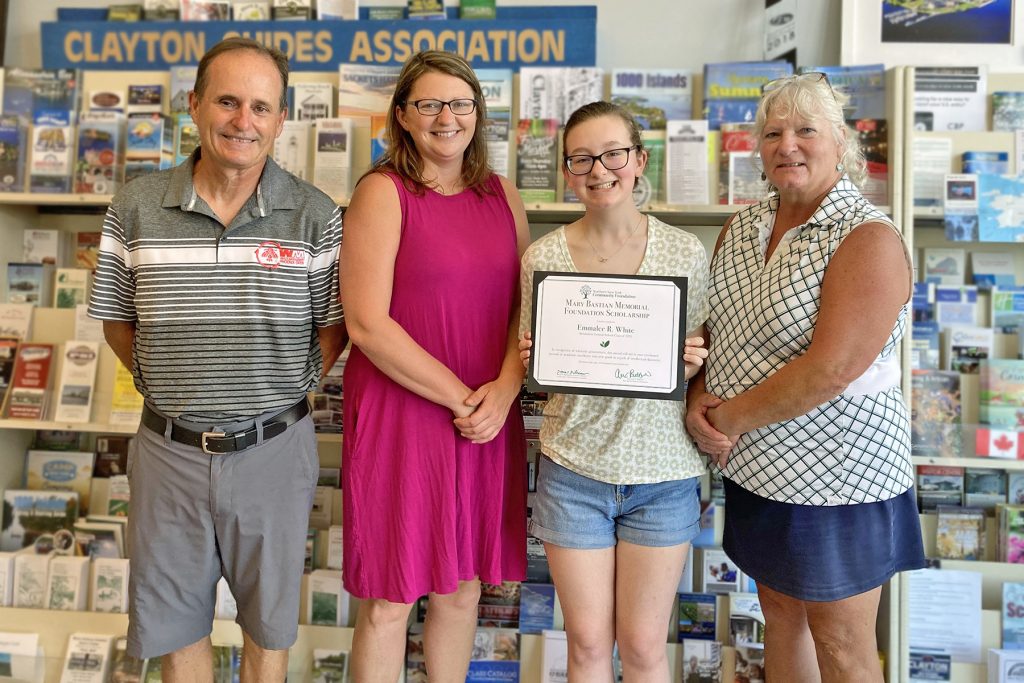 Emmalee was a three-year member of the National Honor Society, serving as her chapter's president her junior and senior years. Among other school activities, she served on the Student Council for four years, and was president during her senior year. Emmalee competed in varsity soccer and was a team captain her senior season. 
     Outside of school, she was extensively involved in Girl Scouts, earning the Girl Scout Gold Award, the highest achievement in Girl Scouting. To earn her Gold Award, Emmalee completed a project focused on educating adolescents on the importance of mental health. "I want to help people through education as it's our most valuable tool," she said.
     Mary Bastian's son, Robert Bastian Jr., her granddaughter, Alexandra Buduson, and her dear friend, Amy Fitzsimmons, presented Emmalee with the Mary Bastian Memorial Foundation Scholarship and a $1,000 award.
     Emmalee is the daughter of Caryn and Chad White, Redwood.
About Mary Bastian
     The Mary Bastian Memorial Foundation was established as a permanent fund of the Northern New York Community Foundation in 2021 to provide educational support to graduating seniors from Thousand Island Central School, Alexandria Central School, or LaFargeville Central School, who are pursuing careers in education. Recipients will have also demonstrated interest in improving their physical well-being and enhancing their lives through activities and the community.
     Mary Bastian passed away in September 2018 at the age of 80. A native of Antwerp, Mary graduated from Ithaca College with a bachelor's degree in physical education. She began her teaching career at Clayton Central School, now Guardino Elementary. Shortly after she was married, Mary and her husband, Robert Bastian Sr., put their teaching careers on hold and moved to Morrisville, N.Y., where they owned and operated several businesses for a number of years before purchasing Marble Island, an 18-hole golf resort in Winooski, Vt.
     In 1971, the family returned to Clayton and Mary resumed her teaching career, working in schools in Lyme and Cape Vincent as well as Jeff-Lewis BOCES before she joined the staff at Thousand Islands High School, where she remained until she retired in 1996. 
     Mary coached the Thousand Islands girls' varsity soccer, volleyball, basketball, and softball teams, leading her students to numerous championships and titles. She spent summers volunteering for special needs children and giving to her community for 25 years with the Clayton Youth Commission, serving as a mentor, coach, and secretary. She also mentored young women as a Girl Scout leader.
     The Second Annual Mary Bastian Memorial Golf Tournament tees off at 9 a.m. Sunday, Sept. 18, at Natali's C-Way Resort & Golf Club, 37067 State Route 12, Clayton. All tournament proceeds help build the Mary Bastian Memorial Foundation Scholarship at the Northern New York Community Foundation. Tournament sponsorships are still available. Contact Alexandra Buduson, alex@1000islands-clayton.com, to learn more.
About the Northern New York Community Foundation
     Since 1929, the Northern New York Community Foundation has invested in improving and enriching the quality of life for all in communities across Jefferson, Lewis, and St. Lawrence counties.
     Through partnerships with businesses and organizations, charitable foundations, and generous families and individual donors, the Community Foundation awards grants and scholarships from an endowment and collection of funds that benefit the region. Its commitment to donors helps individuals achieve their charitable objectives now and for generations to come by preserving and honoring legacies of community philanthropy while inspiring others.
     The Community Foundation is a resource for local charitable organizations, donors, professional advisors and nonprofit organizations. It also works to bring people together at its permanent home in the Northern New York Philanthropy Center to discuss challenges our communities face and find creative solutions that strengthen the region and make it a great place to live, work, and play.