Former Bridge Authority Official Creates Fund to Support Employees, Retirees and their Families
     ALEXANDRIA — Two Jefferson County students with family ties to the Thousand Islands Bridge Authority were recently named the first recipients of the Northern New York Community Foundation Russell I. Wilcox Thousand Islands Bridge Authority Scholarship.
     "It was deeply meaningful to see the vision for this come to fruition. We feel extremely humbled and honored to have worked alongside Mr. Wilcox to create something that represents his life's work and will forever carry forward his care and concern for the Bridge Authority employees and their families," said Rande Richardson, Community Foundation executive director.
     Jakob Lynch, a 2022 Alexandria High School graduate, and Dylan Rastley, a 2020 General Brown High School graduate and current SUNY Canton student, were each awarded a $1,000 scholarship.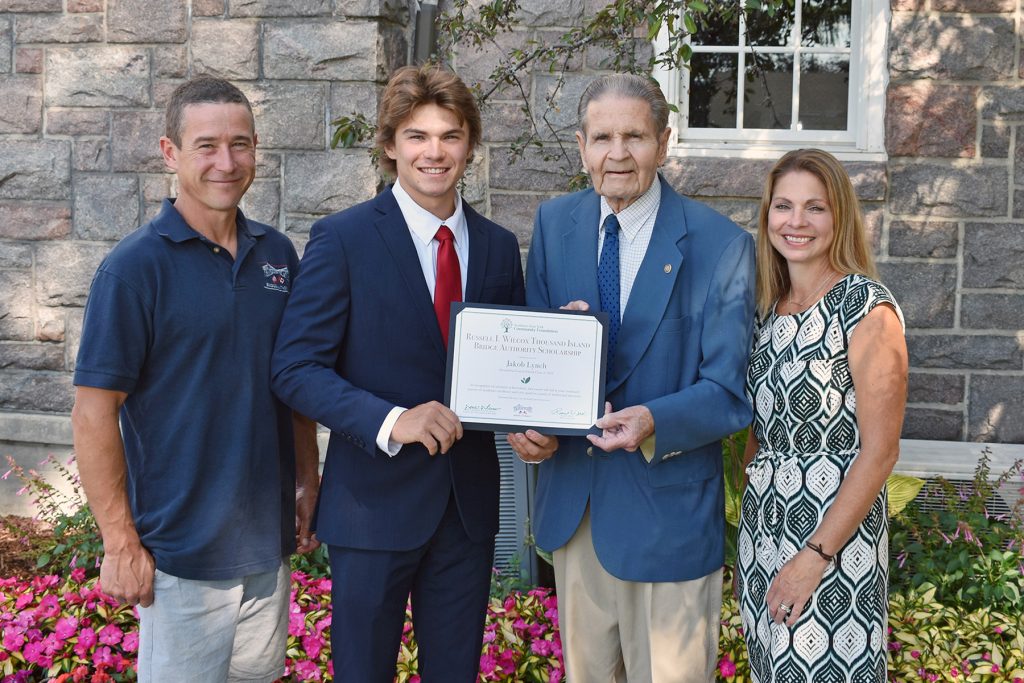 Jakob Lynch is a Redwood native who graduated with honors from Alexandria Central School in June. He will attend SUNY Potsdam this fall where he plans to pursue a degree in business administration with a minor in sports management. While in high school, Jakob was a member of the National Honor Society, the Foreign Language Club, and Student Council. He was a three-sport athlete, competing in varsity soccer, hockey, and lacrosse. He will also play Division III lacrosse at SUNY Potsdam.
     Jakob is the son of Hollie Heath and stepson of Justin Heath who works as the lead horticulturalist for the Thousand Islands Bridge Authority, maintaining the expansive gardens at Boldt Castle and the Authority headquarters.  
     Dylan Rastley is a Watertown native who graduated from General Brown High School in June 2020. He is presently pursuing a bachelor's degree in emergency management at SUNY Canton.
     While in high school, Dylan was a member of the National Honor Society. He was a two-sport athlete, competing in varsity football and lacrosse. He is also an Eagle Scout. Dylan is the grandson of Carl Herman, who retired from the Thousand Islands Bridge Authority in 2009. Dylan began work last month as a firefighter for the Fort Drum Fire Department. He is the son of Paula and Tom Rastley, Watertown.
     Russell I. Wilcox, a longtime leader of the Thousand Islands Bridge Authority, established the permanent scholarship at the Northern New York Community Foundation as an extension of his life's work, service on behalf of the Bridge Authority, and in honor of his relationship with Bridge Authority board members and employees.
     Current full-time Thousand Islands Bridge Authority employees, retirees, and their children and grandchildren are eligible to apply for the scholarship, which is awarded annually through the Community Foundation. 
About the Thousand Islands Bridge Authority 
     The Thousand Islands Bridge Authority is a New York State public benefit corporation. It owns and operates the Thousand Islands International Bridge System near Alexandria Bay, and Ivy Lea, Ontario, Canada, covering 8.5 miles and providing a direct connection to U.S. Interstate 81 and Canada's Highway 401.
     An international board of directors leads the Authority, which also owns and operates the regional tourist attraction Boldt Castle. Since 1977, more than $20 million in capital improvements have been made to the castle property through Authority revenues without state and federal funds. Annual visits to the Boldt Castle exceed 240,000.
     The Authority employs 62 full-time staff, of which 43 are U.S. citizens and 19 are Canadian citizens. The Authority averages 60 additional temporary and seasonal staff annually to support seasonal operations and maintenance.
About the Northern New York Community Foundation
     Since 1929, the Northern New York Community Foundation has invested in improving and enriching the quality of life for all in communities across Jefferson, Lewis, and St. Lawrence counties.
     Through partnerships with businesses and organizations, charitable foundations, and generous families and individual donors, the Community Foundation awards grants and scholarships from an endowment and collection of funds that benefit the region. Its commitment to donors helps individuals achieve their charitable objectives now and for generations to come by preserving and honoring legacies of community philanthropy while inspiring others.
     The Community Foundation is a resource for local charitable organizations, donors, professional advisors and nonprofit organizations. It also works to bring people together at its permanent home in the Northern New York Philanthropy Center to discuss challenges our communities face and find creative solutions that strengthen the region and make it a great place to live, work, and play.