Pair of  Sackets Harbor High School Class Leaders Embody Late Guidance Counselor's Commitment to Community Engagement, Citizenship
     SACKETS HARBOR — Two leading members of the Sackets Harbor Class of 2023 have been named the first recipients of the Northern New York Community Foundation Laurie Renzi Gadsden Award.
     Adelyne Jareo, this year's Sackets Harbor Central School class valedictorian, and Eric Gayne, an academic leader who ranks fourth in his class, were each awarded a $500 scholarship during Monday's High School Awards night.
     Given by Gabriel Renzi and Dr. Eugene and Joyce Renzi and family, the Laurie Renzi Gadsden Award was established at the Community Foundation in 2022 in Laurie's memory to honor her life and perpetuate her legacy of kindness and positivity. Laurie passed away in August 2021 at the age of 57.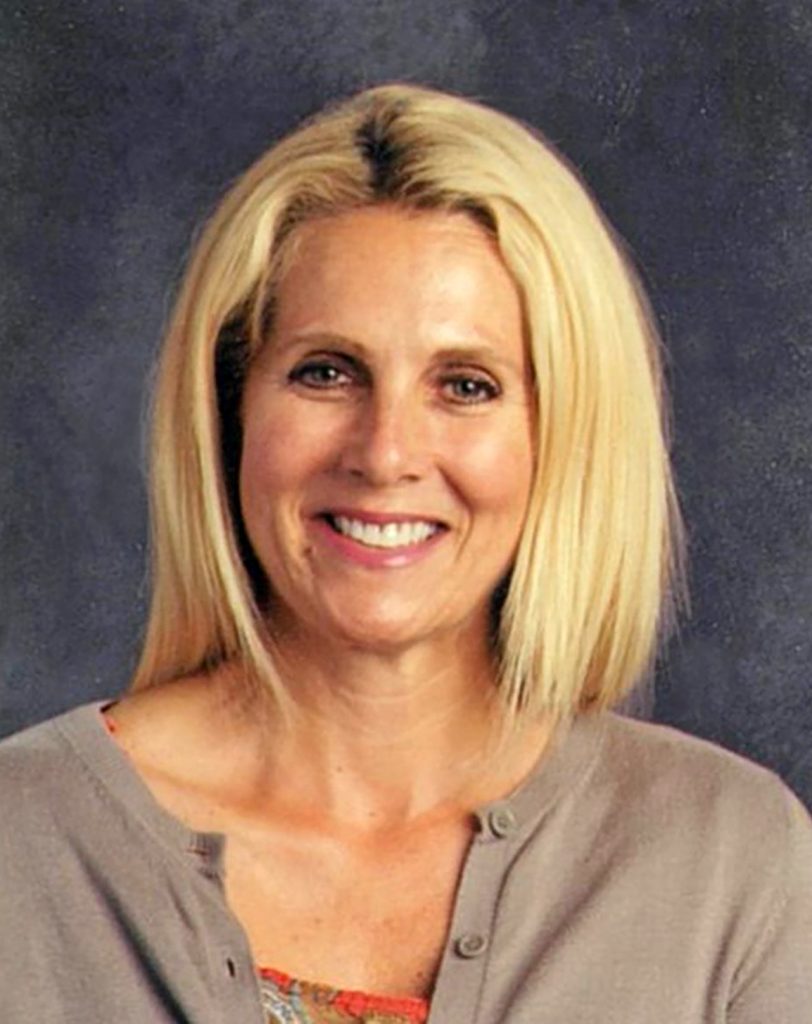 Laurie was a beloved guidance counselor at several school districts in Central New York over a 23-year career in public education, most notably in the North Syracuse School District. She loved working with students of all ages but particularly enjoyed helping students with career and college decisions.
     To honor her life, this award is presented annually to either a student, teacher, or staff member of Sackets Harbor Central School or a Jefferson County community member. Recipients will have demonstrated an interest and passion for fostering and promoting good citizenship and civic responsibility, engagement, and service. Through their example, it is hoped that others are inspired to do what they can to be good role models and live in ways that support others, celebrate community, and promote positive behaviors.
     "This fund will forever be a reminder of the importance and power of the human spirit for the betterment of our community and the world," said Rande Richardson, Community Foundation executive director. "We are honored to be asked by the Renzi family to partner on this very meaningful and enduring tribute. It is such a wonderful and fitting way to remember Laurie by continuing to uplift and encourage others as she did."
About the recipients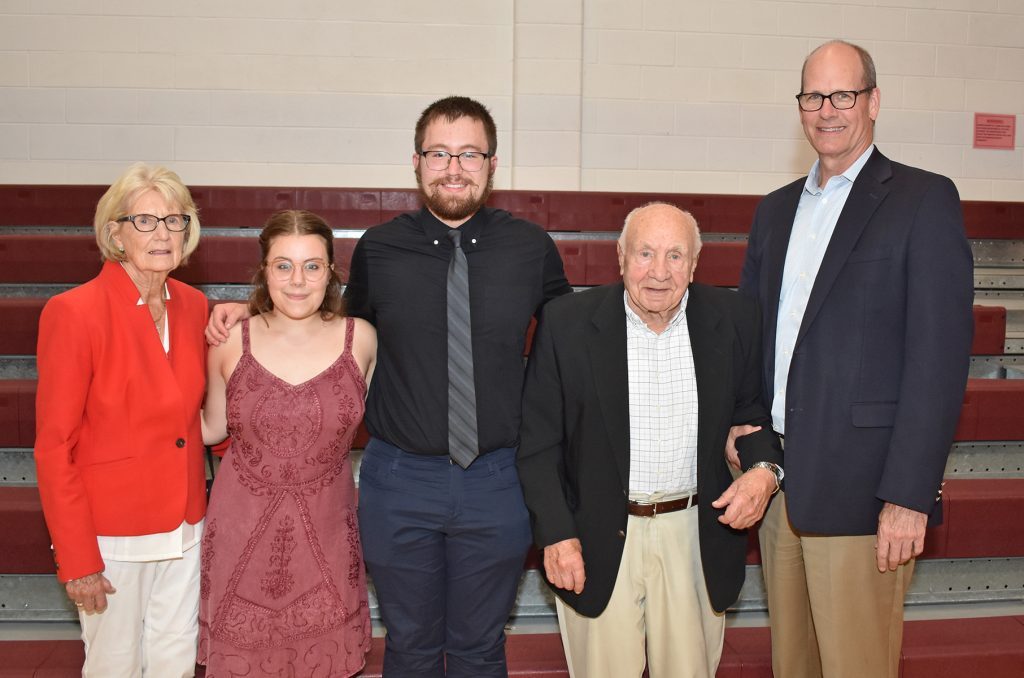 Adelyne Jareo will attend the University of Rochester this fall where she plans to study history and political science. She is the daughter of Mark Jareo and Nicole Peer, Adams.
     Adelyne is a member of the National Honor Society and the Spanish National Honor Society. She is the recipient of the St. Lawrence University Augsbury North Country Scholarship, the St. Lawrence University Book Award, the University of Rochester Frederick Douglass and Susan B. Anthony awards, and the Student Sage Award from Russell Sage College. She was honored as a WWNY-TV 7 Academic All-Star and received the New York State Attorney General's Triple C Award for possessing the qualities of character, courage, and commitment. Adelyne has completed six courses through SUNY Jefferson, earning a college GPA of 3.79.
     She is president of her graduating class and of SPARK — Sackets Patriots are Resilient Kids. She has also participated in Odyssey of the Mind, the Art and Library clubs, and Sources of Strength. Additionally, Adelyne has danced with Joanne's Northern Lights Dance Company since she was 5. She is also a member of Stage Notes in Watertown.
     Throughout her high school career, Adelyne has been active in a wide range of community service initiatives and has provided mentorship and tutoring to other students in her school's newly created support center. As an eighth grader, Adelyne was the top participant in the Community Foundation's inaugural Community Spirit Youth Giving Challenge, for which she presented a $1,000 grant to Meals on Wheels of Greater Watertown.
     Eric Gayne will attend the University of Health Sciences and Pharmacy in St. Louis, Mo., this fall where he plans to study biomedical sciences. He is the son of Leslie and James Gayne, Dexter.
     Eric is a member of the National Honor Society and the Spanish National Honor Society. He is the recipient of the Le Moyne College Heights Award, the Rensselaer Medal, and the University of Rochester's George Eastman Young Leaders Award. Additionally, Eric was recognized as a WWNY-TV 7 Arts All-Star. As a junior, Eric enrolled in the Medical Careers Program at the Bohlen Technical Center while completing precalculus and chemistry at Sackets. This year, he is taking a full slate of college courses in English, economics, and political science.
     Eric is a member of marching band, serving as treasurer of the band and its booster club president. He is also a member of the chorus and was cast in the school's production of "Wonderland: Alice's Rock & Roll Adventure." He is also a "big" in the Patriot Pals Program, a version of Big Brothers Big Sisters. He has participated in the Art and Spanish clubs, and Youth Court of Jefferson County. Eric has involved in many community service initiatives and is a volunteer at St. Andrew's Church, where he also plays the organ.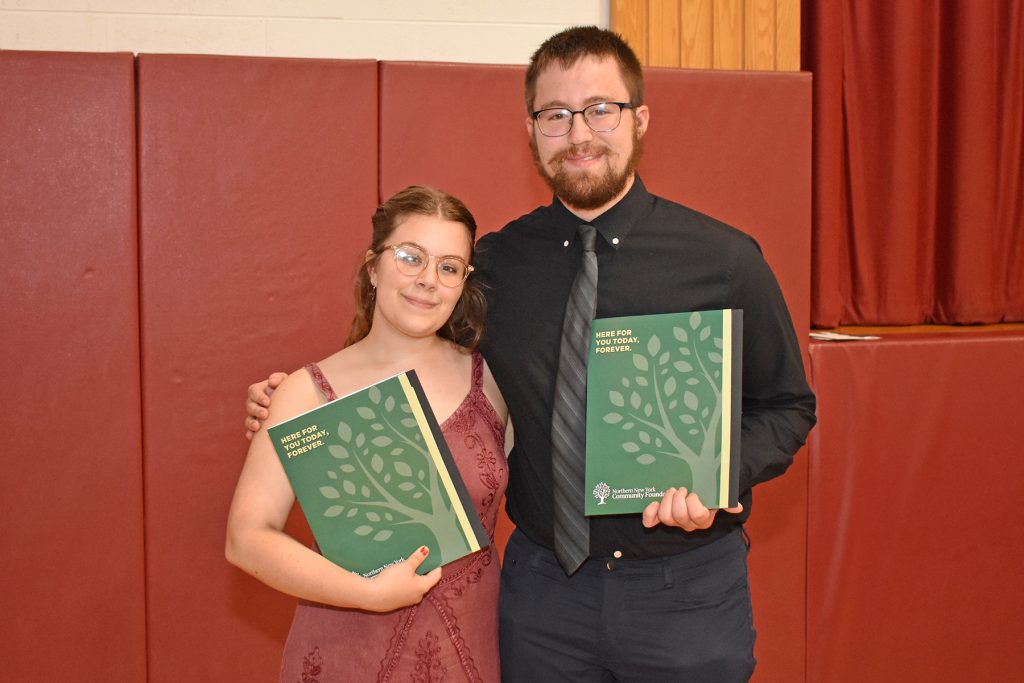 About the Northern New York Community Foundation
     Since 1929, the Northern New York Community Foundation has invested in improving and enriching the quality of life for all in communities across Jefferson, Lewis, and St. Lawrence counties.
     Through partnerships with businesses and organizations, charitable foundations, and generous families and individual donors, the Community Foundation awards grants and scholarships from an endowment and collection of funds that benefit the region. Its commitment to donors helps individuals achieve their charitable objectives now and for generations to come by preserving and honoring legacies of community philanthropy while inspiring others.
     The Community Foundation is a resource for local charitable organizations, donors, professional advisors and nonprofit organizations. It also works to bring people together at its permanent home in the Northern New York Philanthropy Center to discuss challenges our communities face and find creative solutions that strengthen the region and make it a great place to live, work, and play.