$5,000 Matching Challenge will Double Gifts to LEAD Holiday Giving Fund
     WATERTOWN — The LEAD Council of the Northern New York Community Foundation is working to help bring joy to families and children in need this holiday season.
     The advisory committee of young professionals is kicking off its annual LEAD Holiday Giving initiative to support the tri-county region. To begin, the Council's LEAD Holiday Giving Fund at the Community Foundation will provide a $5,000 matching challenge. Each gift to the fund will be matched, dollar-for-dollar, up to $5,000.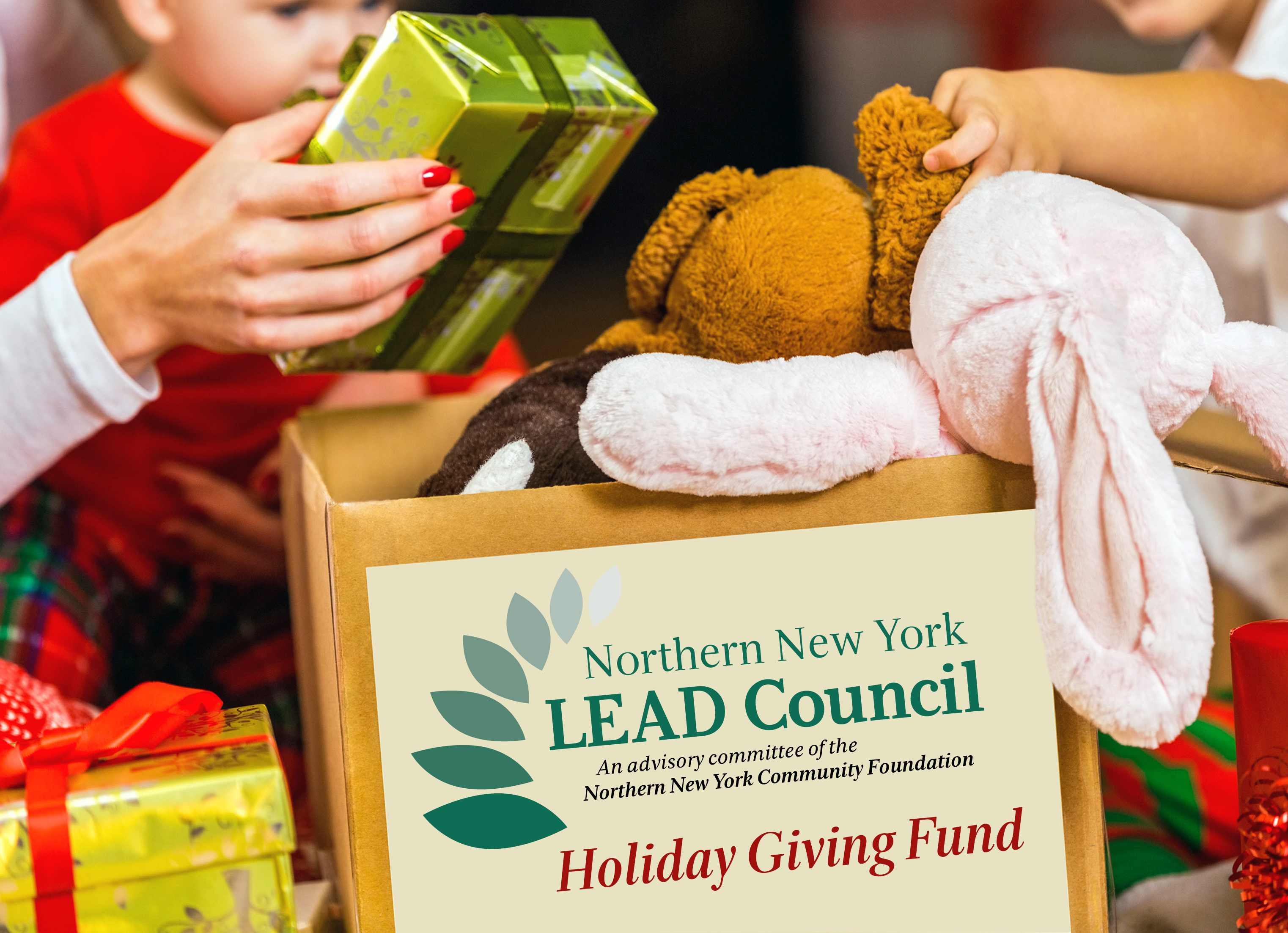 Total gifts contributed to the LEAD Holiday Giving Fund will be evenly distributed to the following community initiatives and nonprofit partner organizations:
Christmas Crusade for Kids — Led by Tunes 92.5/104.5 FM Intrepid Broadcasting, Watertown, this initiative provides holiday gifts to children and families across Northern New York. More than 1,200 families received support last year. The effort is a collaboration with the Community Action Planning Council of Jefferson County, Watertown Urban Mission, the Salvation Army Watertown Corps, Catholic Charities, and Toys for Tots.
Christmas Sharing Holiday Assistance — This program of the Lowville Food Pantry distributes gifts, toys, food boxes, and more to children, families, and seniors in need across Lewis County.
Potsdam Holiday Fund — This nonprofit provides annual support to St. Lawrence County individuals and families in need with gifts, food baskets, and winter clothing. Funding from this matching challenge will strengthen the organization's voucher program this year.
      "Year after year, Christmas Crusade for Kids, Christmas Sharing and the Potsdam Holiday Fund work tirelessly to ensure our youngest, most vulnerable community members have a memorable holiday season," Council Chair Anna Platz said. "Our LEAD members are proud to support the work of these organizations through our annual holiday giving challenge." 
     LEAD members will also collect new toys, which will be donated to help brighten the holidays for local children in need. The Council's challenge starts today and runs through Friday, December 1. Last year, the Council awarded $6,000 to support local holiday initiatives and distributed hundreds more in material gifts.
      "The LEAD Holiday Giving Challenge is a wonderful opportunity to make a positive impact this holiday season. By participating, you're not only spreading joy but also supporting those in need," Council Vice Chair Marc Piche said. "Your gifts can make a significant difference in someone's life, making the holiday season brighter for them. Join us in this meaningful endeavor!" 
     The LEAD Council is comprised of 13 young professionals who live and work in Jefferson, Lewis, and St. Lawrence counties. The Council is empowered to develop creative initiatives that directly benefit the community and to award strategic grants to tri-county nonprofit organizations whose work enhances the quality of life in the region.
     To support LEAD's effort, make gifts to: Northern New York Community Foundation, 131 Washington Street, Watertown, New York 13601, or online at nnycf.org. Please designate your thoughtful gift to the LEAD Holiday Giving Fund.
     The LEAD Council program and experience is made possible through the generosity of the Hyde-Stone Charitable Foundation of the Northern New York Community Foundation, Carthage Savings and Loan Association, Morgia Wealth Management, and donors to the Friends of the Foundation Annual Community Betterment Fund. Contact Max DelSignore, Community Foundation assistant director, 315-782-7110, or max@nnycf.org, to learn more about LEAD and its work.
About the Northern New York Community Foundation
     Since 1929, the Northern New York Community Foundation has invested in improving and enriching the quality of life for all in communities across Jefferson, Lewis, and St. Lawrence counties.
     Through partnerships with businesses and organizations, charitable foundations, and generous families and individual donors, the Community Foundation awards grants and scholarships from an endowment and collection of funds that benefit the region. Its commitment to donors helps individuals achieve their charitable objectives now and for generations to come by preserving and honoring legacies of community philanthropy while inspiring others.
     The Community Foundation is a resource for local charitable organizations, donors, professional advisors and nonprofit organizations. It also works to bring people together at its permanent home in the Northern New York Philanthropy Center to discuss challenges our communities face and find creative solutions that strengthen the region and make it a great place to live, work, and play.