Five Nonprofits Will Share Funding to Strengthen Quality of Life Across the Region
    WATERTOWN — A new summer musical production, a community instrument and equipment lending library, emergency responder training, and a pair of programs that provide critical and essential needs for families will each receive a share of $20,000 in grant funding from the LEAD Council of the Northern New York Community Foundation.
    A recent series of LEAD Impact Grant Program awards will support five tri-county nonprofit organizations. After thoughtful evaluation of nearly two-dozen applications for funding, Council members sought to enhance the mission and work of organizations that greatly impact the quality of life in Northern New York but are perhaps less visible.
    "Council members are excited to support our communities with funding for organizations and programs that are committed to strengthening quality of life in our region. It was a very challenging decision to select just five organizations from the more than 20 applications we evaluated," said Erin Simser, LEAD Council chair. "It is encouraging to see local nonprofits working so hard to improve life for North Country residents. We hope to continue to support many more organizations and programs in the future."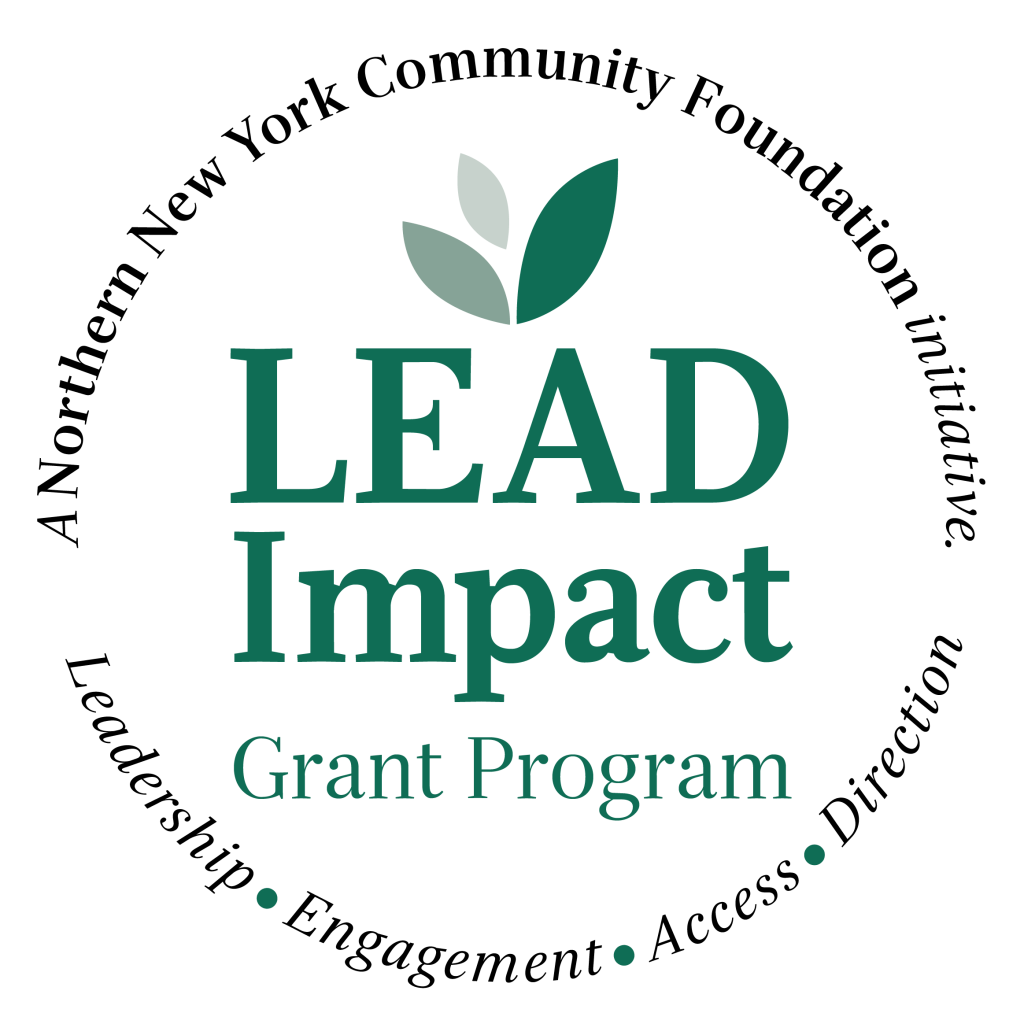 A $6,400 LEAD Impact Grant will help Stage Notes resume live, in-person performances with a new production planned for summer. Stage Notes works to educate young theater students through creative performances, workshops, and participation in productions, while also teaching them about the importance of arts to a community. The global health pandemic has significantly impacted local arts organizations that depend on in-person performances, forcing many to adapt and innovate while presenting productions virtually. Stage Notes is now preparing for a return to the stage in July. 
    "Stage Notes is immensely thankful to the LEAD Council for its help in returning our students to the stage," said Ticia Aumell, Stage Notes artistic director. "With the help of this grant, Stage Notes is proud to return to the stage in July 2022 with 'RENT, School Edition.' This generous support will help cover the cost of licensing and royalties, and other production expenses."
    While technology has afforded the theater world the option of crafting performance and events solely for an online audience, such innovative performances can't substitute for the power of a stage performance, Mrs. Aumell said, adding that "physical presence is part of the essence of theater, and occupying a common space." 
    A $5,000 LEAD Impact Grant will help the nonprofit HarmoNNY Performing Arts Community engage the community in the arts through the introduction of an instrument and equipment lending library. The organization is presently purchasing and collecting instruments for the library, which is housed at Trinity Episcopal Church. The lending library is a unique opportunity for youth to engage in the performing arts while removing the financial barrier of purchasing or renting an instrument.
    The Fort Drum Regional Health Planning Organization was awarded a $4,100 LEAD Impact grant to help train 20 emergency responders on basic actions to stop life-threatening bleeding following emergencies. Responders who complete "Stop the Bleed" training will become instructors for up to 25 free training sessions at key community sites throughout the coming year. The goal is to train up to 500 people in the region to alleviate pressures on North Country first responders, many of whom serve several rural communities.
    The Church and Community Program, Canton, was awarded a $2,500 LEAD Impact grant to strengthen its food supply through the purchase of high-quality local meat and produce from regional producers. Items would then be distributed through a variety of food assistance programs the organization manages to support local families. Funding will allow the Church and Community Program to help the local economy and regional farmers while offering healthy meats, eggs and produce to those they serve. 
    Norwood's Community Lunch Program for Kids was awarded a $2,200 LEAD Impact grant to continue supporting the critical and essential needs of families with children and vulnerable senior citizens across the communities it serves.
    The LEAD Council is an advisory committee of young professionals empowered to make key investments in Jefferson, Lewis, and St. Lawrence counties through community grants and volunteerism. The Council was pleased to consider a diverse group of worthy community projects and ultimately distribute meaningful support to nonprofits with varying missions.
    "As a group, we are extremely grateful to have the opportunity to award grant funding to these five organizations," said Andrew Boulter, LEAD Council vice chair. "It's clear that each organization is working 
to better their respective communities, and LEAD is honored to be a small part of their success."
    LEAD and its grant program are supported through the thoughtful generosity of the Hyde-Stone Charitable Foundation of the Northern New York Community Foundation, Carthage Savings and Loan Association, Morgia Wealth Management, and donors to the Friends of the Foundation Annual Community Betterment Fund.
About the LEAD Council
    The LEAD Council was chartered in 2014 as advisory committee of the Northern New York Community Foundation empowered to identify and address strategic needs in Jefferson, Lewis, and St. Lawrence counties. The Council is comprised of 23 young professionals who live and work in the tri-county area with an interest in enhancing the quality of life for all in the North Country. LEAD is an acronym that reflects four important guiding principles of the Community Foundation's work: Leadership, Engagement, Access, and Direction.
    The Council works to gain a deeper understanding of community needs, issues, and the nonprofit sector to augment the Community Foundation's mission and work. Since its inception, the LEAD Council has developed several creative initiatives to benefit the community and region. Strategic efforts include its "LEADing the Way" volunteer program, enhancements to child care and early childhood development programs, hyperlocal support for anti-poverty initiatives, community giving challenges, and building philanthropic values in the region's schools through student-led projects.
About the Northern New York Community Foundation
     Since 1929, the Northern New York Community Foundation has invested in improving and enriching the quality of life for all in communities across Jefferson, Lewis, and St. Lawrence counties.
     Through partnerships with businesses and organizations, charitable foundations, and generous families and individual donors, the Community Foundation awards grants and scholarships from an endowment and collection of funds that benefit the region. Its commitment to donors helps individuals achieve their charitable objectives now and for generations to come by preserving and honoring legacies of community philanthropy while inspiring others.
     The Community Foundation is a resource for local charitable organizations, donors, professional advisors, and nonprofit organizations. It also works to bring people together at its permanent home in the Northern New York Philanthropy Center to discuss challenges our communities face and find creative solutions that strengthen the region and make it a great place to live, work, and play.