$25,000 in Grant Support Awarded to Update Aging Infrastructure
     LOWVILLE — A $25,000 Community Foundation grant will help the Lewis County Agricultural Society restore its historic grandstand at the county fairgrounds off Bostwick Street. 
     First built in the 1860s, the roughly 160-year-old site is listed on the National Register of Historic Places. Deteriorating grandstand infrastructure and new drainage system are two priorities facing upgrades to keep this well-used community asset viable. The Community Foundation previously provided a major grant in 2006 for renovations performed at that time.
     Emergency maintenance was done last summer to keep the grandstand operational through this year's fair. Work was completed to stabilize the structure and ensure the future integrity of the building while repairing damage caused by powder post beetles.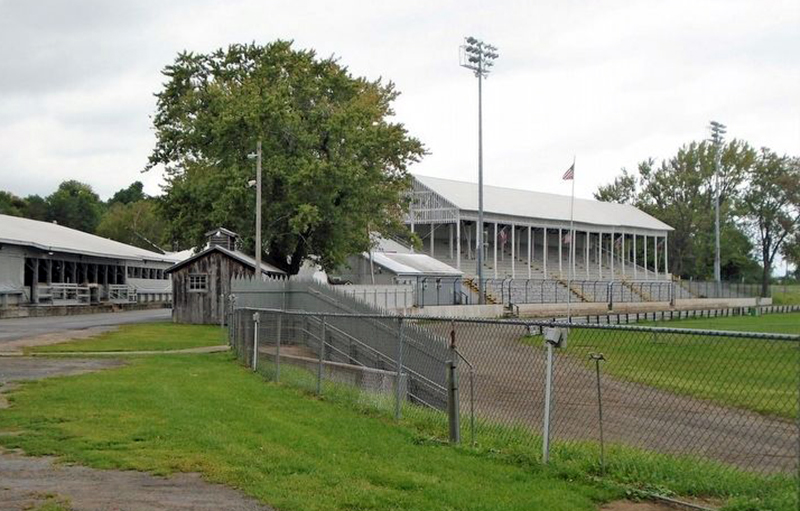 A successful 202nd Lewis County Fair closed on July 22 and grandstand began this month, Lewis County Agricultural Society Board President Matthew O'Connor said. Outside of the fair, the grandstand hosts a wide range of community events throughout the year.
     "This was a good opportunity to build upon something we've previously invested in and also help ensure this community asset continues to fully serve the citizens of Lewis County," said Rande Richardson, Community Foundation executive director. "We know this is a facility that is not only used during the fair, but throughout the year."  
     With more than $300,000 in project funding now secured through support from Lewis County, organization reserves, and charitable gifts from the community, the Agriculture Society's board is working to reach its $425,000 project funding goal.
     "The whole board is very appreciative of the Community Foundation's support," Mr. O'Connor said. "It shows how devoted the Foundation is to help so many different communities throughout the area. On such a large project like our grandstand, all the support helps. We thank you for this generous grant and look forward to continuing our partnership and work together."
     The project is scheduled for completion in about three to four months, Mr. O'Connor said. Planned renovations will reduce the number of costly repairs the Agriculture Society would need to address each year. 
     In 2018, the Agriculture Society's board partnered with the Community Foundation to create a pair of agency funds that include a permanent Lewis County Agricultural Society Endowment and a sustaining fund that have helped it continue its work and mission.
     The Agricultural Society was formed in 1820. In the past 30 to 40 years, its role has grown from primarily supporting the annual Lewis County Fair, to helping the community use the 46-acre Bostwick Street fairgrounds for other community events. A regional staple for more than 200 years, the Lewis County Fair draws an annual attendance of more nearly 40,000 patrons. 
About the Northern New York Community Foundation
     Since 1929, the Northern New York Community Foundation has invested in improving and enriching the quality of life for all in communities across Jefferson, Lewis, and St. Lawrence counties.
     Through partnerships with businesses and organizations, charitable foundations, and generous families and individual donors, the Community Foundation awards grants and scholarships from an endowment and collection of funds that benefit the region. Its commitment to donors helps individuals achieve their charitable objectives now and for generations to come by preserving and honoring legacies of community philanthropy while inspiring others.
     The Community Foundation is a resource for local charitable organizations, donors, professional advisors and nonprofit organizations. It also works to bring people together at its permanent home in the Northern New York Philanthropy Center to discuss challenges our communities face and find creative solutions that strengthen the region and make it a great place to live, work, and play.