New Community Foundation Charitable Fund Will Accept and Steward Additional Contributions
     WATERTOWN — The city's Thompson Park should soon see an updated convening space to host small performing arts events thanks to support from the Community Foundation and a leadership gift from the family of T. Urling and Mabel Walker.
     An all-volunteer committee is pursuing a project in the park to restore the stone bandstand located near the 10th Mountain Division Honor the Mountain Monument, by adding a roof to the historic structure.
     The Community Foundation, together with the Walker Family Community Fund of the Community Foundation, are providing a $50,000 lead gift in support of the project's $150,000 funding goal.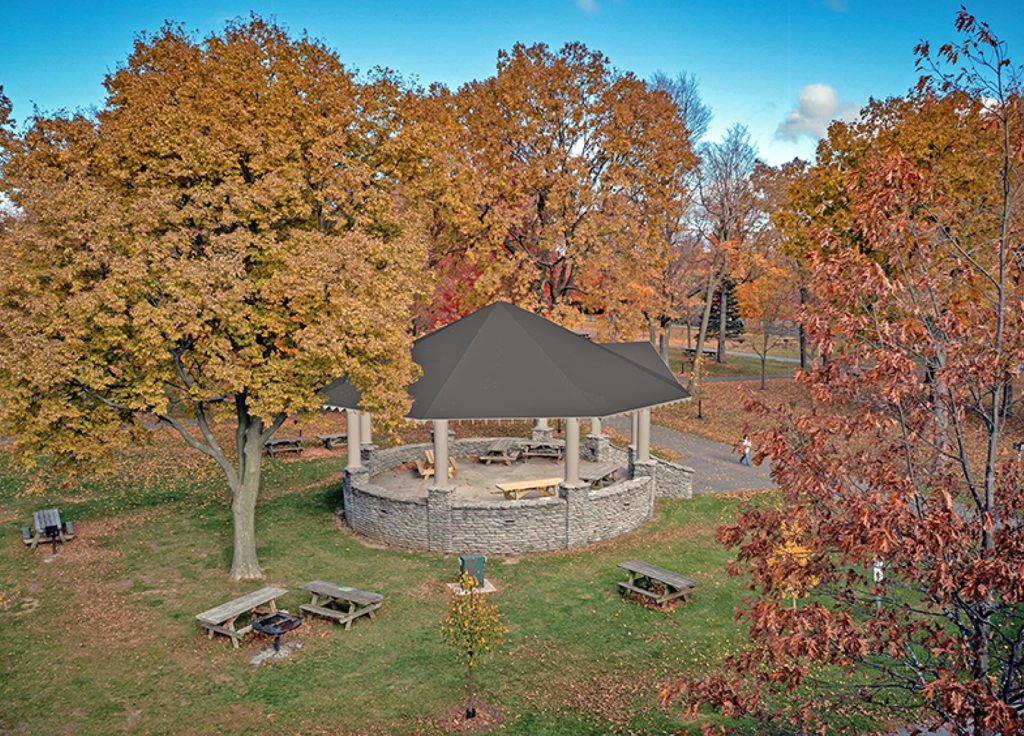 "We are excited and honored to be part of helping restore and enhance an historic feature of Thompson Park also knowing the special place it was to Mayor Walker," said Rande Richardson, Community Foundation executive director. "We are hopeful and confident that others will step forward and join in helping make this project a reality."
     A charitable fund was recently established at the Community Foundation to accept and steward gifts in support of the project. 
     The committee is devoted to seeing the project through as an opportunity to honor former Mayor Walker who was a longtime advocate for Thompson Park and the many quality-of-life benefits the community enjoys there. 
     Watertown's City Council has passed a resolution endorsing the project and officials are weighing a financial commitment from the city. 
     The committee plans to conduct a community fundraising campaign this summer and fall. They hope to complete the roof project by next spring and begin hosting events there.
     "We are extremely grateful for the support of the Walker family and the Northern New York Community Foundation for this project, which former Mayor Walker championed," Committee Chair Brian Ashley said.  "The addition of a roof to this historic bandstand will go a long way to enriching Thompson Park for future generations to enjoy."   
     To join in support of the Thompson Park bandstand project, access secure online giving at bit.ly/Park-Bandstand or mail gifts to Northern New York Community Foundation, 131 Washington St., Watertown, NY 13601, ATTN: Thompson Park Bandstand Project. All gifts are tax-deductible to the fullest extent allowed by law.
About the Northern New York Community Foundation
     Since 1929, the Northern New York Community Foundation has invested in improving and enriching the quality of life for all in communities across Jefferson, Lewis, and St. Lawrence counties.
     Through partnerships with businesses and organizations, charitable foundations, and generous families and individual donors, the Community Foundation awards grants and scholarships from an endowment and collection of funds that benefit the region. Its commitment to donors helps individuals achieve their charitable objectives now and for generations to come by preserving and honoring legacies of community philanthropy while inspiring others.
     The Community Foundation is a resource for local charitable organizations, donors, professional advisors and nonprofit organizations. It also works to bring people together at its permanent home in the Northern New York Philanthropy Center to discuss challenges our communities face and find creative solutions that strengthen the region and make it a great place to live, work, and play.