Community Foundation to Steward Charitable Funds to Help With Project
     WATERTOWN — Considered by many to be one of the most important historical landmarks in our region and of Watertown's Public Square, the First Baptist Church and its iconic clock tower is suffering from years of weather-related issues and neglect.
     The current stone structure, built in 1891, has held a very prominent place in our community for more than a century. In 1898, a clock — one that still monitors time to this day — and a bell weighing 2,500 pounds, were placed its tower. The total clock project cost at that time was made possible through contribution by local citizens.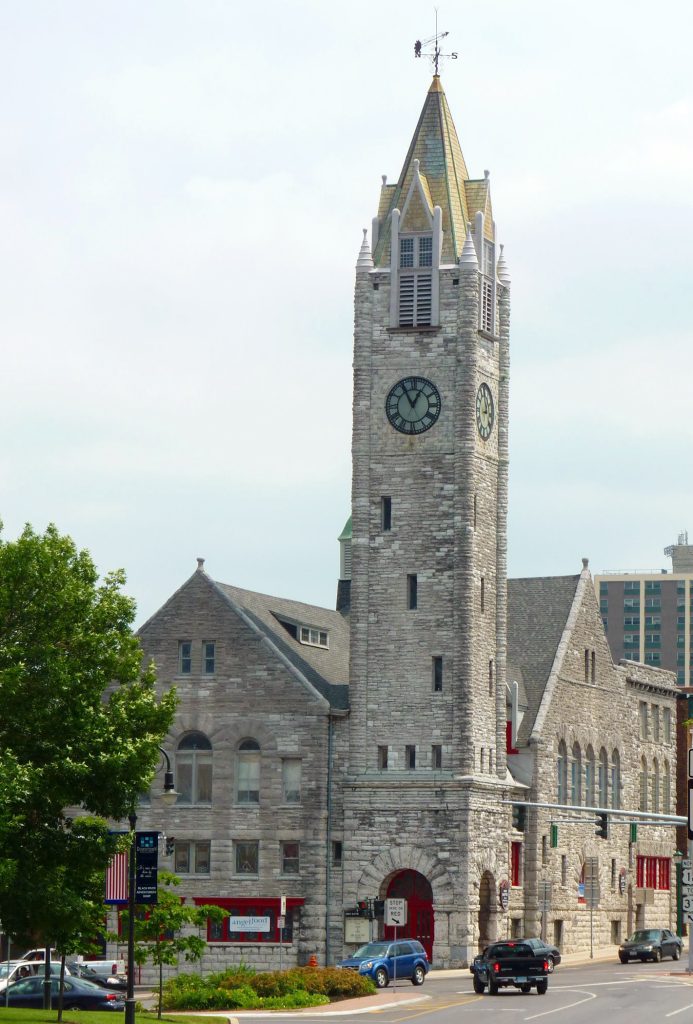 It was then that City of Watertown officials agreed to the "oiling, regulating, and properly caring" for the clock "for the public good" and allocated annual funding for that purpose.
     Since those early days, the timepiece has maintained its steady presence in the Downtown, thanks to many volunteers, the church and continued support from the City of Watertown. The church building itself has stood like a sentinel gracing the east end of the Square and forever reminding us of our heritage and sense of community. Nearly every image of the structure appears when Downtown Watertown is featured.
     Recently, strong evidence has showed something must be done to the exterior to preserve and restore this landmark for this generation and the next. Its loss would leave a devastating mark on the landscape.
     A local committee of concerned citizens, with no direct church affiliation, recently worked with the historic preservation firm Crawford and Stearns to complete a preliminary assessment of the overall condition of the clocktower and building to help understand and evaluate the scope of the project and the level of funding that will be necessary to stabilize the structure. The initial work was funded through the generosity of former Watertown Mayor Tom Walker and the Northern New York Community Foundation. The report will provide the basis for the next steps to acquire additional funding and support.
     At present, the building remains well utilized by the community, hosting programs to such not-for-profit organizations as PIVOT, Urban Mission, and Fort Drum, among many others.
     The committee has begun to identify opportunities for grant funding and local support. Recently, a grant application was submitted to the New York Landmarks Conservancy Sacred Sites Program. Also, a request for support through this year's New York State Regional Economic Development Council initiative through the Consolidated Funding Application process and the New York State Office of Parks, Recreation and Historic Preservation is being prepared. 
     As it has with similar endeavors, the Northern New York Community Foundation has agreed to establish and administer a charitable fund through which individuals, families, organizations, and businesses can help support the initial and future efforts.
     During recent meetings the Committee has also discussed a larger role in the community related to historic preservation efforts. Thus, while the preservation of the First Baptist Church clock tower will be its first effort, it will be positioned to assist with other appropriate endeavors in the future.
     Those who wish to assist the Committee or contribute to its work may contact any member of the committee listed below or the Northern New York Community Foundation for additional information.
     Contact: Don Alexander, Chairman, 315-783-2000; Committee members: Steve Massaro, Sheila Barney-Pullus, Michael Lumbis, Don Rutherford, Reg Schweitzer, Watertown Mayor Jeff Smith, Rev. Jeffrey Smith, former Watertown Mayor Tom Walker, Dr. Jason White.
About the Northern New York Community Foundation
     Since 1929, the Northern New York Community Foundation has invested in improving and enriching the quality of life for all in communities across Jefferson, Lewis and St. Lawrence counties.
     Through partnerships with businesses and organizations, charitable foundations, and generous families and individual donors, the Community Foundation awards grants and scholarships from an endowment and collection of funds that benefit the region. Its commitment to donors helps individuals achieve their charitable  objectives now and for generations to come by preserving and honoring legacies of community philanthropy while inspiring others.
     The Community Foundation is a resource for local charitable organizations, donors, professional advisors and nonprofit organizations. It also works to bring people together at its permanent home in the Northern New York Philanthropy Center to discuss challenges our communities face and find creative solutions that strengthen the region and make it a great place to live, work, and play.