Three Local Women are First to Receive Funding for Professional Development
     WATERTOWN — A pair of entrepreneurs and a nonprofit professional are the first women to receive grant support from the Maxine M. Quigg Women in Business Fund of the Northern New York Community Foundation.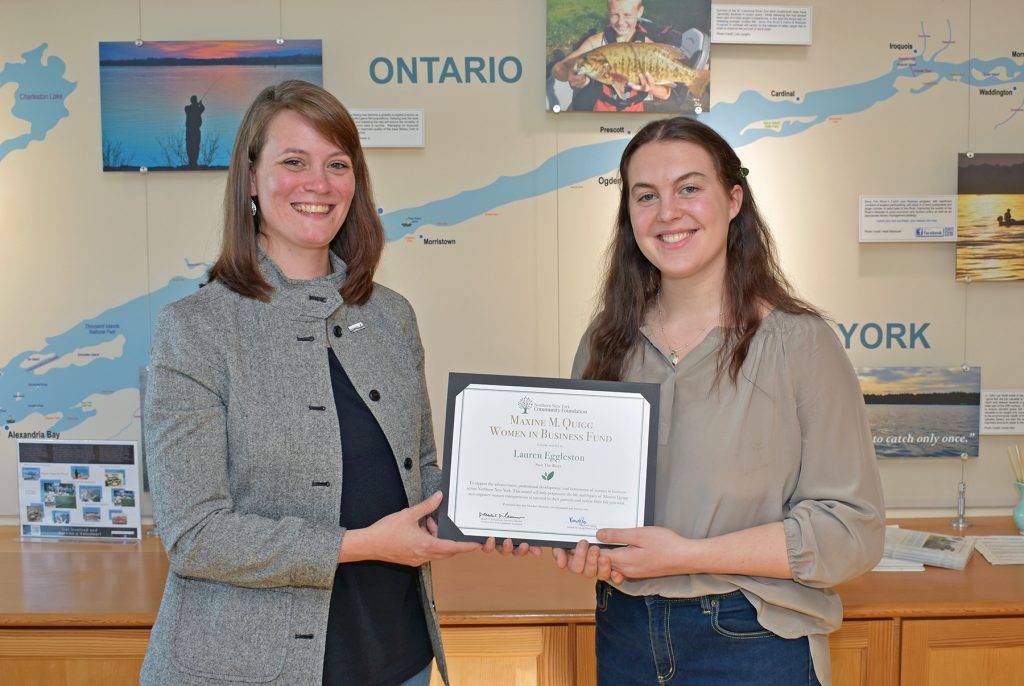 Lauren Eggleston, assistant director for the Clayton-based Save The River, was awarded funding to enable her participation in the Greater Watertown-North Country Chamber of Commerce Jefferson Leadership Institute, a year-long program focused on developing professionals in the greater Watertown area.
     "I am very excited for the opportunity to grow as a professional in Northern New York," Lauren said. "Thanks to support from the Maxine Quigg Women in Business Fund, I am able to participate in JLI, and can focus on the lessons that this program has to offer."
     Lauren grew up in the North Country and spent her childhood on the shores of Lake Ontario and the St. Lawrence River. She joined Save The River in 2020. Lauren holds a Master of Science in structural geology from the University of Alberta. Her work at Save The River focuses on teaching and collaborative research.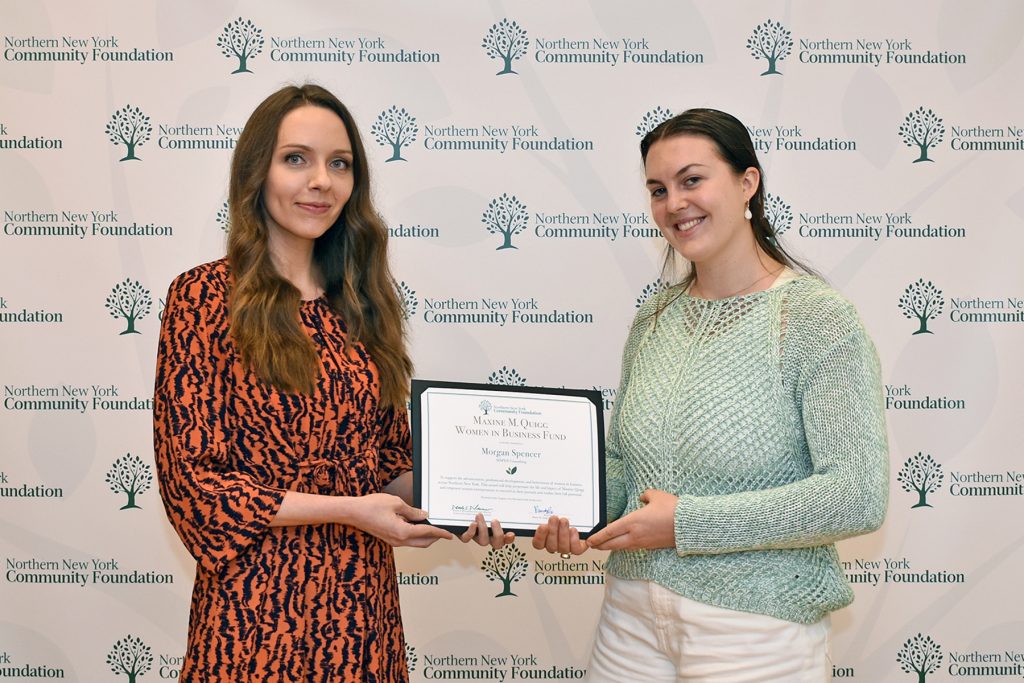 Morgan Spencer was awarded grant support to help her complete coaching and training to strengthen her client-relations efforts and hone her business management skills. Morgan owns and operates MSPEN Consulting, Watertown, a grant writing, strategic planning, and marketing firm she established in 2021. She specializes in developing strategic plans, writing grant applications, and crafting state and federal proposals for a wide range of clients.
     "Through my work professionally, I aim to make substantial improvements in the community and hope to support, empower, and inspire other women to pursue their dreams at any level," Morgan said.
     Morgan holds a Bachelor of Arts in psychology from SUNY Oswego and an associate degree in liberal arts and sciences, general studies and humanities from Jefferson Community College, Watertown. She is also a graduate of the Greater Watertown-North Country Chamber of Commerce Jefferson Leadership Institute.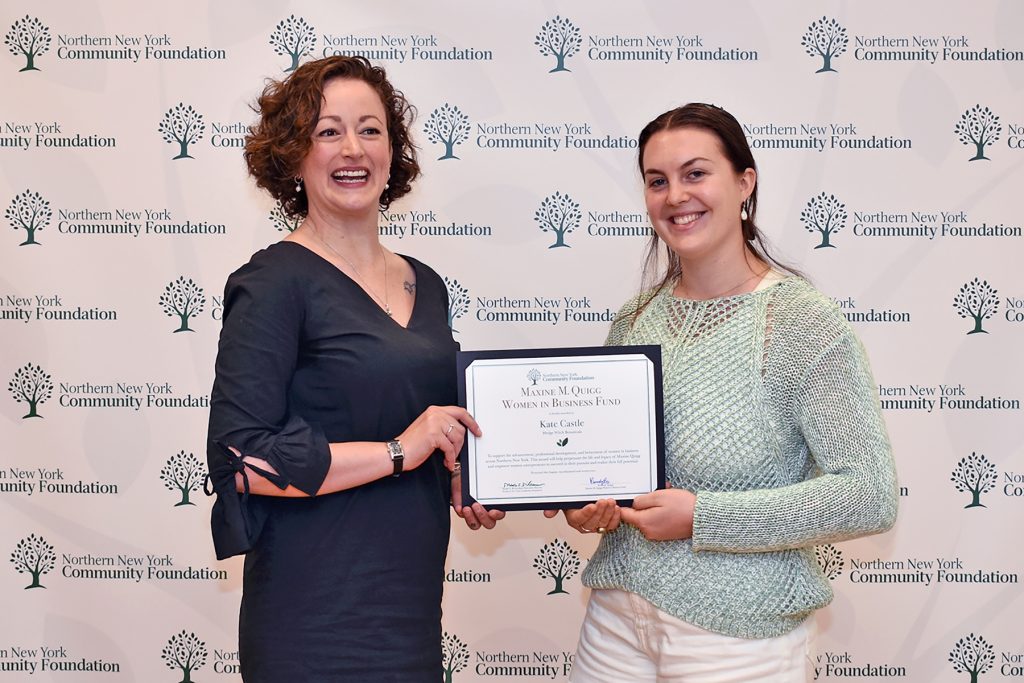 Kate Castle was awarded funding to help her complete a certification program through The Herbal Academy, the International School of Herbal Arts and Sciences. Kate is a former nonprofit professional-turned-entrepreneur who owns and operates Hedge Witch Botanicals, Cape Vincent. Founded in 2018, Hedge Witch Botanicals produces all-natural, handmade organic apothecary goods and cold-process soaps.
     "I am grateful for this support from the Maxine Quigg Women in Business Fund. It will help me complete the Business Herbal Course, which will help me navigate the unique and sometimes challenging regulations and requirements that come with starting an herbal business," Kate said. "This will expand my knowledge and strengthen my ability to more broadly serve my customers and community."
     Kate holds a Bachelor of Arts in art history from Ithaca College and spent several years working in nonprofit administration before she launched her own business.
     Kimberley Horrill, Maxine's sister-in-law, established the fund at the Community Foundation in July 2021 with a goal to increase local mentorship, volunteerism, civic and community engagement, and investment. Its mission is to perpetuate the life and legacy of Maxine Quigg by supporting and empowering women entrepreneurs in Jefferson, Lewis, and St. Lawrence counties to succeed in their pursuits and realize their full potential.
     "It was a proud and an emotional day as we met and greeted the first grantees to receive support from the Maxine Quigg Women in Business Fund through the Northern New York Community Foundation," Ms. Horrill said. "It felt like just the beginning for this legacy that we have started in a community where Max and Terry were so active. To hear the recipients talk about what these grants will enable them to do was humbling. They were honored to be the first grantees."
     Maxine was a successful real estate broker and a community and business leader in Jefferson County who passed away unexpectedly in April 2021. At the time of her passing she was serving on the Community Foundation's Board of Directors.
     "My Mom embraced new challenges and hard work, treating everyone with respect and dignity throughout her life. These qualities made her a successful businesswoman, and they are echoed in the women we are so proud to support in our first grant awards." Maxine's daughter, Kennedy Quigg said. "She and her business partner, Terry O'Brien, formed the leading real estate brokerage in Northern New York, which created many opportunities for women to succeed." 
     Through access to grants for education, training, and entrepreneurship, the fund supports the advancement, development, and betterment of women who are beginning or growing a business in Northern New York. In doing so, women may be better positioned and equipped to realize their full potential for themselves, their families, and their community.
     Applications for 2023 funding through the Maxine Quigg Women in Business Fund of the Community Foundation will open this spring. Contact Kraig Everard, Community Foundation director of stewardship and programs, kraig@nnycf.org, or 315-782-7110, to learn more about this opportunity.
About the Northern New York Community Foundation
     Since 1929, the Northern New York Community Foundation has invested in improving and enriching the quality of life for all in communities across Jefferson, Lewis, and St. Lawrence counties.
     Through partnerships with businesses and organizations, charitable foundations, and generous families and individual donors, the Community Foundation awards grants and scholarships from an endowment and collection of funds that benefit the region. Its commitment to donors helps individuals achieve their charitable objectives now and for generations to come by preserving and honoring legacies of community philanthropy while inspiring others.
     The Community Foundation is a resource for local charitable organizations, donors, professional advisors and nonprofit organizations. It also works to bring people together at its permanent home in the Northern New York Philanthropy Center to discuss challenges our communities face and find creative solutions that strengthen the region and make it a great place to live, work, and play.