Deadline to Submit Proposals for Funding Consideration is Friday, Nov. 3
     WATERTOWN — The Safe Schools Endeavor, in partnership with the Northern New York Community Foundation, is pleased to announce that applications for 2023-2024 funding are now available. All schools in Jefferson and Lewis counties are eligible and encouraged to seek grant funding for projects, programs, and initiatives that seek to improve student and campus culture and strengthen school safety.
     School officials and representatives should complete applications no later than Friday, Nov. 3. All applications must be completed through the Community Foundation's online Grant Lifecycle Manager, which may be accessed at bit.ly/grant-portal. Grant awards will be determined in December and applicants will be notified with a funding decision no later than early January.
     Since 2018, nearly $85,000 in grant funding has been awarded to 16 school districts across the two counties to support 47 projects. Public and private schools are welcome to apply. 
     Grants are made possible thanks to the generous gifts of many individuals, businesses, and organizations in Jefferson and Lewis counties who support the Safe Schools Endeavor and its mission to help keep all children safe while they are at school.
     "Over the last five years this program has helped keep local students safer and has strengthened a private- public partnership with school districts," said Rande S. Richardson, Community Foundation executive director. "We can always do more to increase the efforts presently being made and we are hopeful that again this year we will see requests for projects and programs that build upon what this initiative has already accomplished."
     The Safe Schools Endeavor will consider applications submitted by students, teachers, faculty, staff, and parents. Any individual or group with an idea to improve safety within their Jefferson or Lewis County school should discuss the concept with their respective school administrator to gather their support. Proposals that are student-led or involve close collaboration with students may receive additional weight as funding
is considered.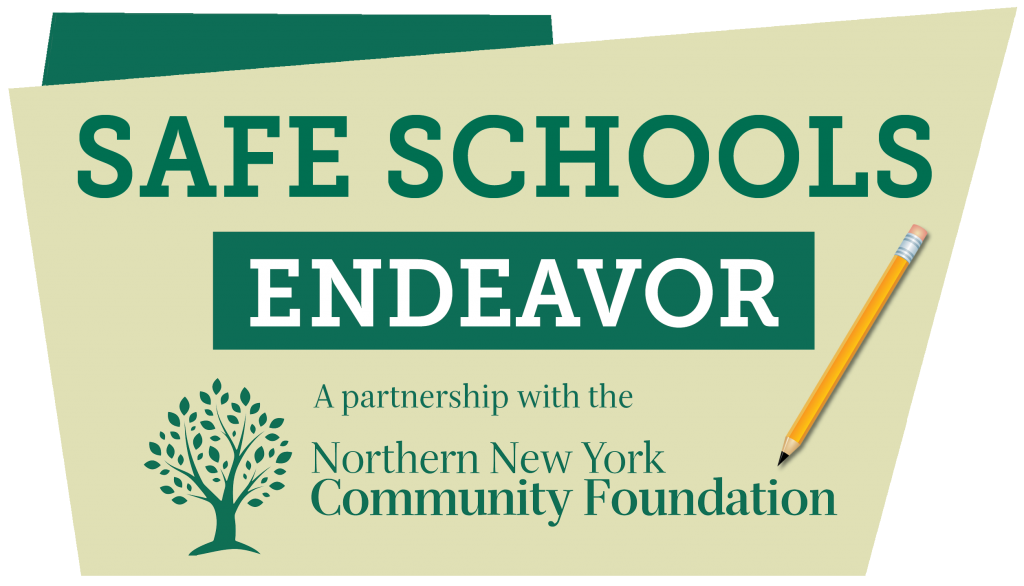 "While we are grateful to every school who has thought of and implemented projects in their district, we must pause to sincerely thank every local business, organization, and individual whose generosity makes this work possible," said Erika Flint, Safe Schools Endeavor steering committee chair. "It is humbling to have the majority of those who supported us in 2018 when the Safe Schools Endeavor was just a vision to continue to support us every year, and to also watch our list of new donors grow."  
     Proposals can include student or parent programming, equipment, faculty and staff training, or anything else that an individual or group within the school community believes would enhance the overall safety of the school and its members.
     The Safe Schools Endeavor stresses awareness, empowerment, and action within school communities, and grant proposals will be evaluated based upon the degree to which they embody these desired outcomes. A scoring rubric is also available for review at bit.ly/sserubric. Email Mrs. Flint at eflint@fdrhpo.org, with any application questions.
     Individuals and groups may request any amount, but typical grants will fall in the range of $1,000 to $2,500. All projects or programs must begin or occur in the 2023-2024 school year with support from the respective school district. Funding for programs or projects that have already occurred are not eligible as the Safe Schools Endeavor is not a source for reimbursement of expenses.
     To stay informed about the Safe Schools Endeavor and its progress in our schools, like it on Facebook at Facebook.com/SafeSchoolsEndeavor and follow it in Instagram at Instagram.com/safeschoolsendeavor.
     For the 2022-2023 school year, 12 projects were awarded grant funding totaling nearly $25,000. Schools and projects receiving support were:
    

Adirondack Central School District, to develop a therapy dog program for each of its four buildings.

 

    

Beaver River Central School District, to purchase radios for emergency communications for a new School Resource Officer.

    

Copenhagen High School, to support purchase and installation of vape sensors in bathrooms.

    

Alexandria Central School District, to help purchase license plate readers to identify vehicles trespassing on school grounds.

 

    

Lowville Academy and Central School, to help the Student Council purchase bathroom vape detectors.

    

South Jefferson Middle School, to help outfit six middle school bathrooms with vaping sensors.

 

    

South Jefferson High School, to help outfit six high school bathrooms with vaping sensors.

 

    

Indian River Middle and High schools, to help the school's SADD club bring an international speaker to present a talk about addiction, suicide, reckless behavior, and the impact on mental health caused by the pandemic to middle and high school students.

 

    

Augustinian Academy, Carthage, to help improve building security at entrances and exits, as well as lockdown window shades and radios.

 

    

Copenhagen Central School District, to help bring a speaker to present an anti-bullying program to reinforce positive behavior for students in pre-k through second grade.

 

    

General Brown Junior/Senior High School, to help create a place to care for students' social and emotional well-being and learn how to self-regulate during the school day.

 

    

Indian River CSD, Theresa Primary School, to help staff create a safe, calming space to improve culture and promote a positive social/emotional well-being.

 
About the Safe Schools Endeavor 
     In the days that followed the Feb. 14, 2018, shooting at Marjory Stoneman Douglas High School in Parkland, Fla., that left 14 students and three staff members dead, and 17 others wounded, a group of North Country residents were called to act in their own communities in Jefferson and Lewis counties.
     While school safety leads many discussions across the country, the Safe Schools Endeavor was created to encourage change at a very local level. Its founding members believe our children are our most precious resource and should never worry for their safety at school.
     With generous support from the Northern New York Community Foundation, a $20,000 matching grant for all gifts made in support of the initiative was announced and a focused effort to seek donations soon began. The movement struck a chord with many Northern New Yorkers who quickly gave to the effort and met the matching challenge, confirming a guiding philosophy that together "A Few Can Make a Difference."
     A 17-member Steering Committee manages the Safe Schools Endeavor. Committee members are parents, school officials, and student representatives. They include Erika Flint, executive director, Fort Drum Regional Health Planning Organization, and Safe Schools Endeavor Steering Committee chairwoman; Jessica Bowline, president, Indigo Inkwell, Inc.; Andrianna Crawford, counselor, Lowville Academy and Central School; Brittney Fults, teacher, Carthage Central; Brigitte Gillette, counselor, Copenhagen Central; Marjorie LaVere, administrative assistant, Jefferson County Public Defender's Office; Todd Lighthall, executive director, Camp Oswegatchie, and member, Beaver River Central School Board of Education; Morgan Pratt Neaves, assistant principal, Indian River Central; Rebecca Paté-Johnson, Head Start family advocate, Community Action Planning Council of Jefferson County; Kylie Simpson, probation officer, Lewis County Probation Department; Stephen Todd, superintendent, Jeff-Lewis BOCES. Student representatives: Anmolika Bolla, Watertown High School Class of 2022; Hailyn Buker, South Jefferson Class of 2022; Claire Jones, senior, Copenhagen Central; Philip Marra, Watertown High School Class of 2021; Samantha Stokely, senior, Copenhagen Central; and Peyton Taylor, senior, Copenhagen Central. 
About the Northern New York Community Foundation
     Since 1929, the Northern New York Community Foundation has invested in improving and enriching the quality of life for all in communities across Jefferson, Lewis, and St. Lawrence counties.
     Through partnerships with businesses and organizations, charitable foundations, and generous families and individual donors, the Community Foundation awards grants and scholarships from an endowment and collection of funds that benefit the region. Its commitment to donors helps individuals achieve their charitable objectives now and for generations to come by preserving and honoring legacies of community philanthropy while inspiring others.
     The Community Foundation is a resource for local charitable organizations, donors, professional advisors and nonprofit organizations. It also works to bring people together at its permanent home in the Northern New York Philanthropy Center to discuss challenges our communities face and find creative solutions that strengthen the region and make it a great place to live, work, and play.