$30,000 Grant Award Will Help Replace Failing HVAC System
     WATERTOWN — The Northern New York Community Foundation, in partnership with the Jane E. Deline Foundation, is pleased to announce a $30,000 grant to help the Salvation Army Watertown Corps replace its central HVAC unit at its State Street facility.
     The Community Foundation and the Jane E. Deline Foundation will each provide $15,000 to support the replacement of a nearly 50-year-old unit that is close to failing. The Jane E. Deline Foundation is a Watertown- based private foundation that stewards the charitable work and legacy of its namesake. 
     Miss Deline was a Carthage native and longtime Watertown resident and teacher who passed away in 2014 at the age of 91. Throughout her lifetime, she was an active volunteer for the Salvation Army and deeply believed in the mission and impact of the organization.
     The Board of Trustees for the Deline Foundation was pleased collaborate on funding with the Community Foundation to support this critical project at the Salvation Army. 
      "This is a wonderful example of the power of funding partnerships in accomplishing good things for a community," said Rande Richardson, Community Foundation executive director. "For both funders, this was an opportunity to work together to maximize support for an organization with a history of doing important work to address critical needs in our area."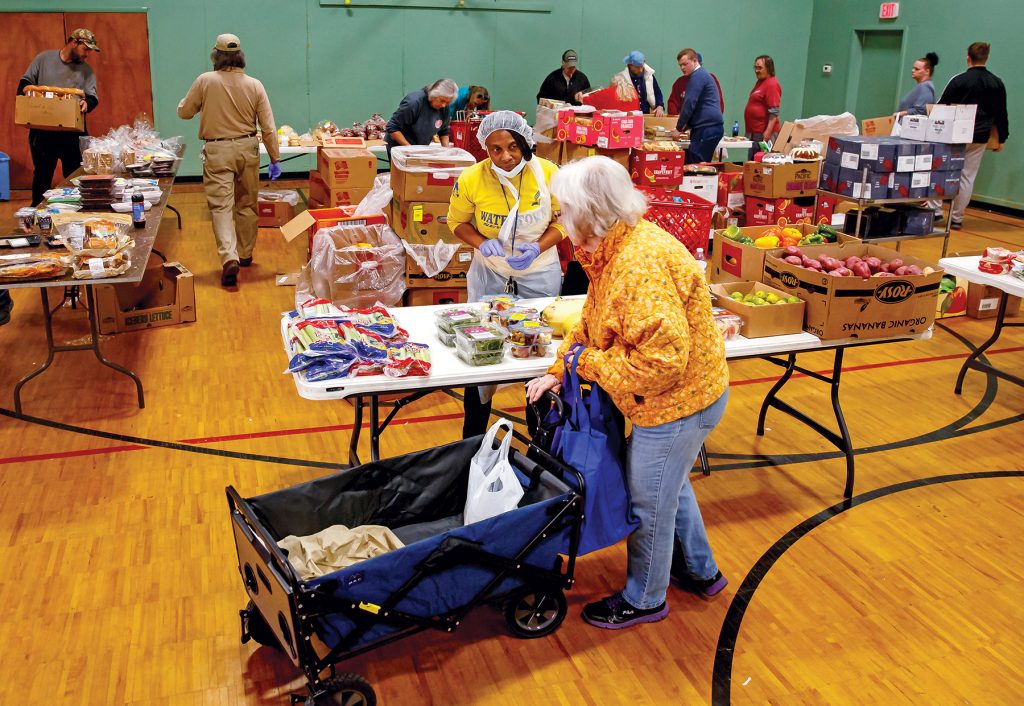 The Salvation Army has a long history of supporting local citizens and families with critical needs and offering programs to assist those most vulnerable in Watertown. Its programs include food pantry offerings, a weekly food box service, soup kitchen and youth programming. This past winter, the Salvation Army was the designated location in Jefferson County for a temporary warming shelter, serving up to 20 homeless individuals every evening as respite from the harsh seasonal conditions. 
     The condition of HVAC unit has been a major concern for the Salvation Army. It primarily serves the gymnasium, which is where the warming shelter and a variety of other programs are held. A new system will ensure that the State Street location will create a comfortable environment for programs and guests while allowing the organization to preserve resources for their critical mission and service. 
      "We are extremely grateful for this support to update our HVAC. For the past few years, we have had to put thousands of dollars into the system to keep it going. Updating it will allow us to continue to offer our weekday soup kitchen meals, food pantry, youth programs, music lessons, church services, adult programs and potentially the warming center again next year," Salvation Army Watertown Corps Captain Dominic Nicoll said.
      "During the summer our gym consistently rises into the 80s, making food service and our drop-in summer youth program very difficult. With these funds we are excited to be able to continue to serve our community alongside partners like the Community Foundation and the Jane Deline Foundation," Capt. Nicoll added.
     The Community Foundation grant also includes $5,000 in support from three meaningful legacy funds stewarded at the Foundation: The Emma Phoebe Hurd Fund, the Charles and Fern Brown Fund, and the Dr. LaVerne R. VanDeWall, Jr. Legacy Fund.
About the Northern New York Community Foundation
     Since 1929, the Northern New York Community Foundation has invested in improving and enriching the quality of life for all in communities across Jefferson, Lewis, and St. Lawrence counties.
     Through partnerships with businesses and organizations, charitable foundations, and generous families and individual donors, the Community Foundation awards grants and scholarships from an endowment and collection of funds that benefit the region. Its commitment to donors helps individuals achieve their charitable objectives now and for generations to come by preserving and honoring legacies of community philanthropy while inspiring others.
     The Community Foundation is a resource for local charitable organizations, donors, professional advisors and nonprofit organizations. It also works to bring people together at its permanent home in the Northern New York Philanthropy Center to discuss challenges our communities face and find creative solutions that strengthen the region and make it a great place to live, work, and play.