Fifteen Organizations Will Share Support for Wide Range of Community Initiatives and Projects
     BOONVILLE — Fifteen projects and organizations that benefit Boonville, Constableville, and Westernville residents will share $52,100 in funding from the Kenneth V. and Jeannette Remp Sawyer Community Fund of the Northern New York Community Foundation this year.
     Support will help fund programs and projects that broadly impact the quality of life for residents in the three communities. Nearly two-dozen organizations applied for grant funding in the fifth year of the grant opportunity. In 2021, the Sawyer Community Fund awarded $46,500 to 11 community-based organizations. Thanks to the enduring generosity of the Sawyers, the fund has provided more than $200,000 in support to 60 organizations and projects since grant-making efforts began in 2018.
     "The enduring gift Mr. and Mrs. Sawyer created is making such a meaningful impact across three communities," said Max DelSignore, Northern New York Community Foundation assistant director. "The scope of this year's grants is directly tied to enhancements in arts and culture, youth opportunities, education, historic preservation and more. The Community Foundation is honored to help ensure the legacy of the Sawyer family and their commitment to the region in this important manner." 
     The Kenneth V. and Jeannette Remp Sawyer Community Fund was established in 2018 as a geographic- specific fund to strengthen and enhance the communities of Boonville, Constableville and Westernville. The Sawyers were passionate about the quality of life in their community, participating in many activities and volunteering with several meaningful organizations. Through the community fund, the Sawyer family established a lasting charitable resource that will forever impact these communities.
     The following organizations will receive 2022 grant funding from the Sawyer Community Fund:
    

Erwin Library and Institute — $6,700 to enhance seating and meeting space in the main library room. Grant funding will support purchase of new furniture while also helping to enhance children's programming through the summer.

 

    

Western Town Library — $6,000 to support a playground revitalization project the library is leading. Children from at least five different communities use the recreational space, which needs significant repairs after a series of weather-related events. Grant funding will support a community campaign for the project.

 

    

Dodge Pratt Northam Art and Community Center — $5,000 to augment the center's summer art classes, support a musical production, enhance a drama course, and bolster an engineering and Lego robotics program. Grant support will directly impact children between the ages of 5 and 18.

 

    

Boonville Concert Band Inc. — $5,000 to support a summer concert series for Boonville-area residents. The concert band has four performances scheduled this summer. Funding will assist with expenses related to the series, which includes soloists, a conductor, promotional supplies, and more.

    

Boonville Black River Canal Museum — $4,000 to improve the museum's woodworking space with a more efficient dust collection and air filtration system and necessary materials. Wooden articles are regularly crafted at the museum, and the new system will create a safer volunteer workspace.

 

    

Constableville for Tomorrow — $4,000 to help purchase a pavilion curtain for the east side of its ice-skating rink, which will allow for easier management of the rink and keeping snow outside during the winter months. The project is being completed in partnership with the Village of Constableville.

    

Constableville Rural Cemetery — $4,000 to purchase a tombstone jack to help restore and rebalance 25 gravestones that are tipping or completely tipped over. The tombstone jack will allow the cemetery to restore additional gravestones in future years.

 

    

Adirondack Community Chorus — $3,900 to secure a writer, director, and other musical personnel to produce a special musical revue. Creative talent will work with the chorus for six weeks to help prepare for a major performance in Boonville. Grant funding will ensure the success of this event.

    

Friends of Erwin Park — $3,000 to support a collaboration with the Village of Boonville for the purchase of a durable sunshade to give children and families a cover near the park's splash pad.

    

Flywheels & Pulleys Association Inc. — $3,000 to preserve the history of vintage gas and steam engines, tractors, and farm/home equipment at a local and national level. The Association hosts an annual fall event featuring its equipment. Funding will help resurface their Association's main driveway and improve access to its outdoor grounds.

    

Wholesome Living Inc. — $3,000 to help restock the organization's dance shoe and costume inventory for programming purposes. For nearly 10 years, the organization has hosted educational and wellness activities for participants of all ages. It offers dance programs to students who are noncompetitive and introduces them to different dance genres.

    

Boonville Search and Rescue Association — $1,500 to support purchase of new skis, poles, boots, and bindings to enhance recreational offerings as interest in trails and cross-county skiing have grown. The all-volunteer association is trained in advanced wilderness first aid and CPR. It also rents special occasion tents and cross-country skis for public use on wilderness trails.

 

    

Constable Hall Association Inc. — $1,000 to continue preserve artifacts and collections tied to the history of Constable Hall and Lewis County. Several fragile artifacts that are vulnerable to damage are presently stored in the organization's carriage house archival room, which needs improvements. Grant funding will support electrical and security upgrades, and purchase storage containers to protect the collection.

 

    

Village of Constableville — $1,000 to support purchase and installation of a scrolling LED sign. The sign will highlight community events and display public notices of government events and meetings. Collaboration with the fire department, library, and other community organizations will help raise awareness of local happenings.

 

    

Volunteer Income Tax Assistance (VITA) — $1,000 for equipment and supplies to continue a program

that supports volunteer processing of individual income tax returns. In 2021, the program served more

than 250 individuals and couples in the Village of Boonville. Volunteers meet twice a week to help prepare income tax filings for community residents.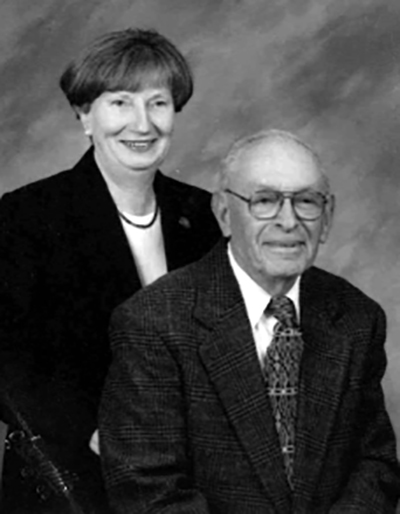 About Kenneth V. and Jeannette Remp Sawyer
     Mr. and Mrs. Sawyer participated in many community events and activities through the years and served on local boards and committees. Mr. Sawyer was a Boonville native, served in the United States Army, and enjoyed a career at Layng Furniture Company and as a supervisor at Boonville's Erwin Park. Most notably, he was a talented musician. He played tenor saxophone in his high school band and clarinet with the Boonville Village Band. He frequently played with three separate drum and bugle corps in Boonville and Rome. Mr. Sawyer passed away in 2008.
     Mrs. Sawyer completed a successful career of more than 45 years at Rome Savings Bank and was an avid follower of the stock market. She also served on the finance committee of Boonville United Methodist Church. She assisted organizations such as the Daughters of the American Revolution, Dodge Pratt Northam Art and Community Center, the Erwin Library, and the Boonville Cemetery. Mrs. Sawyer passed away in 2015.
     In 2017, the Kenneth V. Sawyer and Jeannette Remp Sawyer Scholarship Fund was established through the Northern New York Community Foundation to benefit Adirondack Central School graduates. The endowed fund will award two scholarships each year forever, supporting the business and music pursuits of high school graduates from the district.
     The application for the next grant cycle for funding from the Kenneth V. and Jeannette Remp Sawyer Community Fund will be available in early 2023.
About the Northern New York Community Foundation
     Since 1929, the Northern New York Community Foundation has invested in improving and enriching the quality of life for all in communities across Jefferson, Lewis, and St. Lawrence counties.
     Through partnerships with businesses and organizations, charitable foundations, and generous families and individual donors, the Community Foundation awards grants and scholarships from an endowment and collection of funds that benefit the region. Its commitment to donors helps individuals achieve their charitable objectives now and for generations to come by preserving and honoring legacies of community philanthropy while inspiring others.
     The Community Foundation is a resource for local charitable organizations, donors, professional advisors and nonprofit organizations. It also works to bring people together at its permanent home in the Northern New York Philanthropy Center to discuss challenges our communities face and find creative solutions that strengthen the region and make it a great place to live, work, and play.