Sunrise Rotary Foundation Selects Resolution Center for $5,000 Grant to Support its Youth Court Program
     WATERTOWN — Watertown Sunrise Rotary's 19th Annual Taste of the Town returns for an in-person event this Saturday from 11 a.m. to 2 p.m. at the Jefferson Community College McVean Center Gymnasium.
     More than two-dozen local restaurants and food establishments will be on hand for patrons to enjoy a sample of their best dishes as they compete for bragging rights and awards in several categories including the coveted "People's Choice" award.
     Admission at the door is $3 with a discount available for military members. Tasting tickets are $1 each or $10 for 12 and $20 for 25. Doors close for public admission at 1 p.m. Saturday's event is made possible in part through generous corporate support from United Foodservice Operators and a host of local businesses and organizations.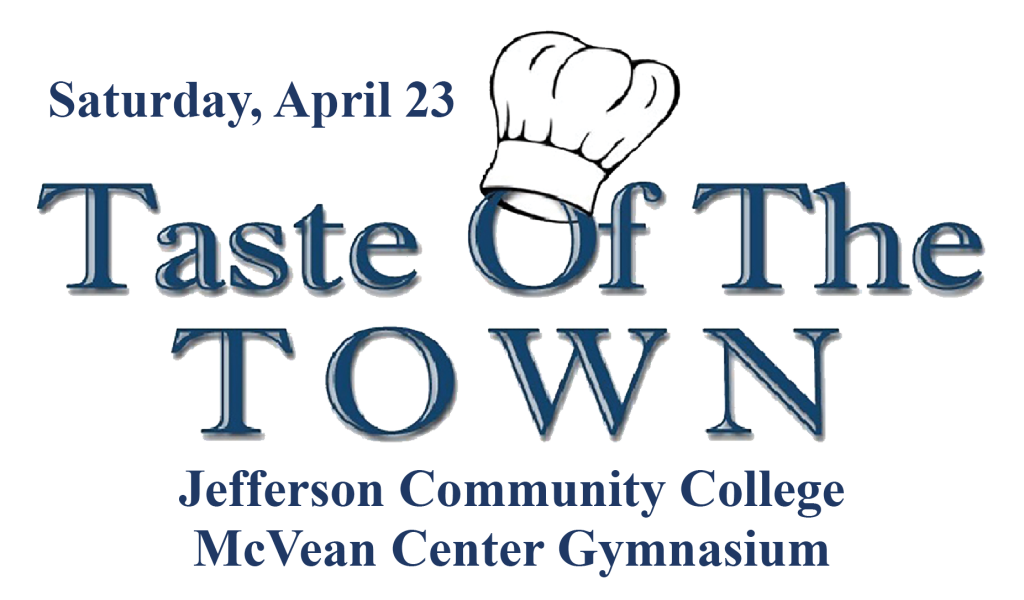 "We are thrilled bring this family-friendly event back for the community to enjoy and help many great local restaurants share a taste of their best," said Kraig Everard, Watertown Sunrise Rotary Club president.
     At 1:30 p.m., the Watertown Sunrise Rotary Club Foundation will present a $5,000 Taste of the Town grant to the Resolution Center of Jefferson & Lewis Counties to support its Youth Court program. The Sunrise Rotary Club Foundation is a Northern New York Community Foundation charitable affiliate.
     The Resolution Center was selected for the competitive Taste of the Town grant by a committee of Sunrise Rotary Club members from nearly a dozen applicants. This is the fifth year that a North Country nonprofit will be awarded a Taste of the Town grant. 
     "Watertown Sunrise Rotary's mission is 'Service Above Self.' By offering a local nonprofit a one-time grant, Sunrise Rotary creates a lasting partnership with them," Mr. Everard said. "We are grateful to the many event sponsors who have made Taste of the Town possible and afforded our Club the chance to help a worthy nonprofit organization continue meaningful work in our community."
     The following restaurants and food vendors are scheduled to participate in Saturday's Taste of the Town: The Battlefield Eatery, Blue Mountain Spring Water, Cam's Pizzeria, Cedar Hedge Farms, City Dawgz of NNY, Cookies and Goodies, CoreLife Eatery, The Cottage Bakery, Cuppycakes, Empire Square, Great Lakes Cheese, Hilton Garden Inn, Miz Betty's Delights Bakery, Natural Nook, NAVS Popcorn, Olive Garden, Red Lobster, Roxy Pub, Sam's Club, The Sandwich Bar, Spokes Craft Beer & Tapas, Tug Hill Roasters, Tug Hill Vineyards, Waffle Overload, Wise Guys Ristorante, Wish Thai Kitchen.
     Additional Taste of the Town event sponsors include Ames Bros Service Center, ARC of Jefferson & St. Lawrence Counties, Carthage Savings & Loan, Cheney Tire, GYMO Architecture, Engineering & Land Surveying, Johnson Lumber, Kinney Drugs Foundation, Knowlton Technologies, Northern Federal Credit Union, Northern Glass, Northern New York Community Foundation, Purcell Construction, RBC Wealth Management—Watertown, Slack Chemical, Watertown Savings Bank, and Watertown Urgent Care. Media sponsors include NBC Watertown, Runningboards Marketing, Spectrum, Tunes 92.5/104.5 FM, and WWNY-TV7 / Fox 28.
About Sunrise Rotary and Taste of the Town
     Taste of the Town is a Watertown Sunrise Rotary annual event that offers the public an opportunity to "taste" a variety of food and beverage items from dozens of local restaurants, caterers, wineries, and other food and beverage businesses. Each year, more than 1,000 people participate in the event to sample cuisine from locally owned and nationally franchised food establishments. The event is also a fundraiser that helps to support North Country nonprofits.
     Proceeds from this family-fun event provide funding for Watertown Sunrise Rotary and a North Country nonprofit organization that, through a competitive grant application, is awarded a Watertown Sunrise Rotary Foundation Taste of the Town grant.
     Watertown Sunrise Rotary's main objective is service to the community, in the workplace, and around the globe. Local projects funded and serviced by the club include playgrounds, park beautification, a summer camp for developmentally challenged children, holiday parties for underprivileged children, support of local scholarships, and various nonprofit and community donations.
About the Northern New York Community Foundation
     Since 1929, the Northern New York Community Foundation has invested in improving and enriching the quality of life for all in communities across Jefferson, Lewis, and St. Lawrence counties.
     Through partnerships with businesses and organizations, charitable foundations, and generous families and individual donors, the Community Foundation awards grants and scholarships from an endowment and collection of funds that benefit the region. Its commitment to donors helps individuals achieve their charitable objectives now and for generations to come by preserving and honoring legacies of community philanthropy while inspiring others.
     The Community Foundation is a resource for local charitable organizations, donors, professional advisors, and nonprofit organizations. It also works to bring people together at its permanent home in the Northern New York Philanthropy Center to discuss challenges our communities face and find creative solutions that strengthen the region and make it a great place to live, work, and play.