Five Local Organizations Will Share $5,000 in Funding to Strengthen Efforts
     WATERTOWN —  The Youth Philanthropy Council of the Northern New York Community Foundation has awarded $5,000 in grant support to five North Country nonprofit organizations to strengthen their missions and work in the nonprofit sector.
     The Council and its executive committee selected the five organizations based on each nonprofit's mission, success in achieving goals, demonstration of fiscal responsibility, sustainability, and formal presentation. Funding for this important work was made possible, in part, through the Herring College Memorial Fund of the Community Foundation. Each of the following tri-county organizations were awarded a $1,000 grant to help with a wide range of community programs and projects:
    

Cerebral Palsy Association of the North Country, Canton, operated by the Community Health Center of the North Country. The Association provides primary and preventive care services to all members of the communities. The agency acts as a safety net for those without health insurance or for those who are under-insured.

    

Credo Community Center for the Treatment of Addictions, Watertown, provides services and treatment for over 40 years to individuals, groups, families, adults, adolescents and children, whose lives have been negatively impacted by substance abuse. The agency has grown and developed to meet the changing needs of clients who need and want treatment for substance abuse problems.

    

Oswegatchie Educational Center, Croghan. Managed by the New York State FFA Leadership Training Foundation, the Center operates as a youth camp during the summer months and is open throughout the year as an educational and recreational retreat center. It provides youth and adults with meaningful experiences in leadership training, environmental education, and outdoor recreation.

    

Potsdam Holiday Fund, provides new toys, clothing, boots, and food to families and senior citizens in need in Potsdam, Madrid, Hopkinton, Nicholville, Brasher Falls, Chase Mills, Fort Jackson, West Stockholm and Winthrop. In addition, volunteers have delivered more than five tons of food annually to needy families and senior citizens.

    

Traditional Arts in Upstate New York, TAUNY explores, honors, and celebrates the diverse cultures, skills, and crafts of everyday life in the North Country. The organization collects, preserves, interprets, and presents the customs and traditions with its archives, exhibits, and programs in Canton and throughout the region.
     "The Youth Philanthropy Council continues to be one of our most meaningful and enduring leadership programs," said Rande Richardson, Community Foundation executive director. "It is shaping the leaders of today and tomorrow, and their journey through the mission-based grant process tests their ability to develop and articulate perspectives and opinions while challenging them to respectfully consider multiple viewpoints."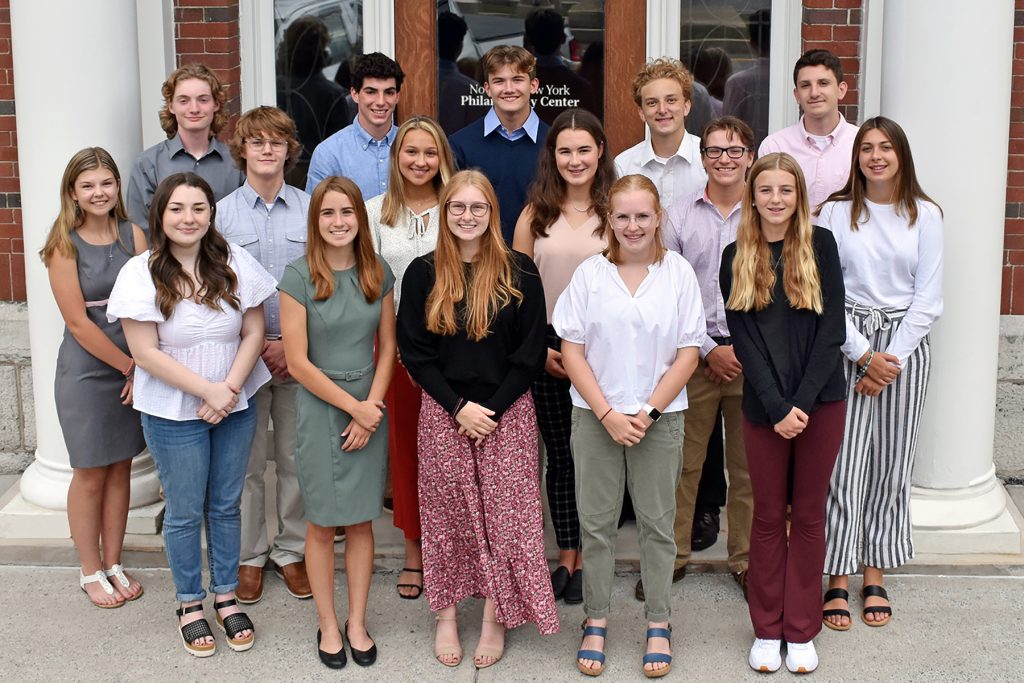 This is the third year the Youth Philanthropy Council has awarded mission-based grants to nonprofits serving tri-county residents, which is in addition to the Council's annual grantmaking program.
     "A thorough list of Northern New York Community Foundation partners — totaling over 150 unique nonprofits — was narrowed to five that we found especially intriguing," said Jack Mangan, Youth Philanthropy Council Chair. "All these organizations are staples within our region, and we were able to choose five that we considered extraordinarily deserving of mission-based funding. Our communities rely on organizations like these, and we are ecstatic to fund some of the most essential and impactful."
     Council members are now reviewing more than two-dozen proposals for up to $20,000 in funding that will be announced in June. Each year, the Council provides support to agencies that serve tri-county residents for projects or initiatives that positively impact the quality of life in Jefferson, Lewis, and St. Lawrence counties.
     Last spring, the Council awarded five grants totaling $20,000 in support to nonprofit organizations that serve residents of the tri-county region.
     The Youth Philanthropy Council and its grant program is made possible by annual gifts made to the Friends of the Foundation Annual Community Betterment Fund and support from Watertown Savings Bank, the Renzi Foodservice Charitable Foundation of the Northern New York Community Foundation, and RBC Wealth Management of Watertown.
     The Youth Philanthropy Council was chartered in 2010 to promote positive youth development and engage young people in meaningful activities that build their leadership skills while educating them about community philanthropy and its impact on Northern New York. Since its inception 13 years ago, the Youth Philanthropy Council has awarded nearly 122 grants to nonprofit organizations in the tri-county area, totaling $205,070 in support. Nearly 140 students from seven different tri-county high schools have served as Council members.
About the Northern New York Community Foundation
     Since 1929, the Northern New York Community Foundation has invested in improving and enriching the quality of life for all in communities across Jefferson, Lewis, and St. Lawrence counties.
     Through partnerships with businesses and organizations, charitable foundations, and generous families and individual donors, the Community Foundation awards grants and scholarships from an endowment and collection of funds that benefit the region. Its commitment to donors helps individuals achieve their charitable objectives now and for generations to come by preserving and honoring legacies of community philanthropy while inspiring others.
     The Community Foundation is a resource for local charitable organizations, donors, professional advisors and nonprofit organizations. It also works to bring people together at its permanent home in the Northern New York Philanthropy Center to discuss challenges our communities face and find creative solutions that strengthen the region and make it a great place to live, work, and play.