Students Field 27 Funding Requests from Tri-County Nonprofits
     WATERTOWN — The Youth Philanthropy Council of the Northern New York Community Foundation has awarded $20,000 in grants to seven North Country nonprofit organizations that will support a wide range of community programs and projects.
     Each year, the Council reviews requests from tri-county nonprofits to fund projects or initiatives that positively impact the quality of life in Jefferson, Lewis, or St. Lawrence counties. In addition to researching and recommending grants, Council members visit several nonprofit organizations, learn about grantee stewardship, community investment and leadership, and nonprofit sustainability.
     The Council received 27 funding proposals during the 2022-2023 program year with seven agencies invited to present requests to the full Council. Members delivered grant recommendations to the Community Foundation Board of Directors during its recent quarterly meeting and the Board unanimously approved the full slate of grants. 
     "This program is so much more than about gaining a better understanding of community. It is a leadership program that provides students with experiences that will stay with them and position them to have a greater impact throughout their lives," said Rande Richardson, Community Foundation executive director. "The students continue to give us confidence that the next generation will build upon the good things previous generations have started."
     Council Vice Chair Owen Newton, a second-year member and 2023 South Jefferson High School graduate, said "the grant selection process was very competitive, educational, and eye-opening as we learned about the many needs of our communities." 
     "I am incredibly proud of the council's diligent work this year to select seven outstanding organizations in which we have the highest confidence that they will better our community now and in the future," Mr. Newton said. "The council provides a unique perspective on philanthropy and our community's needs, and we are proud to fund these projects to assess those needs."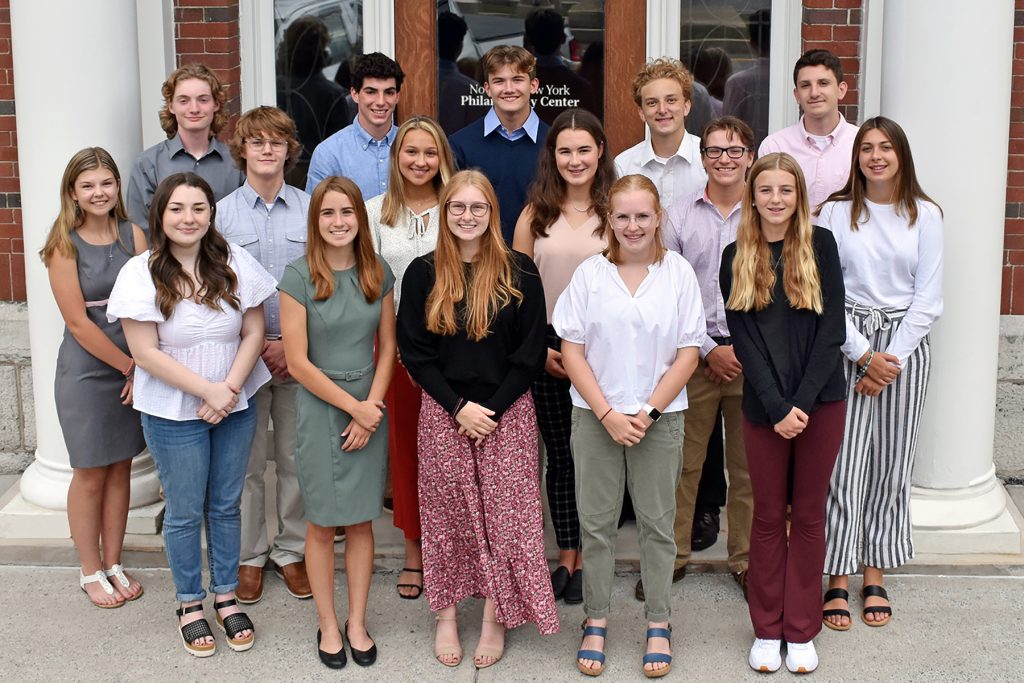 The following Youth Philanthropy Council grants were approved:
Meals on Wheels, $5,950 to cover meal delivery costs and assist individuals awaiting insurance

 

pre-authorization or those who face short-term hardships. Last year, 58 recipients received 26,742 meals.

 

Watertown Urban Mission, $5,000 to support the purchase of essential household items such as beds and small appliances for 15 to 25 people transitioning out of homelessness in the supplemental housing program.

 

HarmoNNY Performing Arts Community, $3,000 to purchase additional band instruments in demand for its musical instrument lending library, especially for beginner students, who may lack necessary financial resources. Funding will help ensure greater equity and access to music education.

 

South Jeff Backpack Program, $2,000 to support its existing program, which provides weekend meals to food-insecure children in the South Jefferson School District. It serves 75 families and approximately
225 students.
Stage Notes, $1,640 to help with the rental costs of their performance venue, the Dulles State Office Building, where it will stage the musical "Guys and Dolls" for three days at the end of July.
Priority Wellness Campaign, $1,560 to support licensing fees for an annual accounting and donor management software subscription that will streamline operations and allow volunteers to focus on community outreach, ensuring the organization's long-term sustainability. The organization provides peer-to-peer support groups and mental health training while connecting first responders to mental health care.

 

Peyton Lane S. Morse Legacy Foundation, $850 to help provide quality CPR training in communities with long emergency response times and limited financial resources. The foundation plans to collaborate with the Red Cross to provide free CPR and AED training to residents in Jefferson County. Funding will support a Red Cross certified trainer and certification costs for the program.
     Council Grants Committee Chair Jack Buckingham, a second-year member and 2023 South Jefferson High School graduate, noted how this year's Youth Philanthropy Council has worked to support funding for organizations that will have a broad impact on many people across the region. 
     "Due to the hard work and attention to detail Council members provided this year, I am incredibly confident in the projects we chose to support," Mr. Buckingham said. "We funded a diverse collection of grants in order to assure we helped as many people as possible while also ensuring we met a wide variety of community needs." 
     The Youth Philanthropy Council was chartered in 2010 to promote positive youth development and engage young people in meaningful activities that build their skills while educating them about community philanthropy 
and its impact on Northern New York. Council members grow to become problem solvers as they engage in lessons that may never be taught in a classroom.
     A team of volunteers and Community Foundation staff manage the program, including Senior Advisor Emily Sprague, a retired Watertown City School District teacher who also serves on the Foundation Board of Directors. Mrs. Sprague has volunteered to lead the program since its inception. Advisor Leslie Renzi is a volunteer who has helped mentor Council students for the past three years. Mrs. Renzi's son, Jude, is a Council alumnus. Kraig Everard, Community Foundation Director of Stewardship and Programs, serves as the staff advisor for the program. Mr. Everard joined the Foundation team in 2020.
     The Council's grant program is made possible through support from Watertown Savings Bank, Renzi Foodservice Charitable Foundation, RBC Wealth Management, the Mart Liinve Family Charitable Fund and gifts made to the Friends of the Foundation Annual Community Betterment Fund.
     Since its inception, the Community Foundation's Youth Philanthropy Council has awarded 134 grants totaling $230,070 in support to nonprofit organizations that serve tri-county residents, and nearly 150 students from seven different North Country high schools have served as Council members.
     This year's Council includes representatives from General Brown High School, Immaculate Heart Central School, South Jefferson High School, and Watertown High School. Each Council member is in his or her sophomore, junior, or senior class. Representatives from each school district are: General Brown High School: Kaylee Fields, junior; Olivia Wisner, junior; and McKenna Lee, junior. Immaculate Heart Central School: Grady Petersen, senior. South Jefferson High School: Zachary Blevins, senior; Jack Buckingham, senior and Grants Committee Chair; Jack Mangan, junior and 2022-23 Council Chair; Owen Newton, senior and 2022-23 Council Vice Chair. Watertown High School: Trey Augliano, senior; Mia Kelly, sophomore; Zachary Kilburn, senior and Communications Committee Chair; Harper Lane, sophomore; Ella Smith, sophomore; Olivia Urf, junior; Maya Voss, junior; Adelaide Weir, senior and 2022-23 Council Secretary.
     The Council reconvenes at the start of the new school year in September. It will accept 2023 funding proposals in the fall. Information about how to apply will be announced at that time.
About the Northern New York Community Foundation
     Since 1929, the Northern New York Community Foundation has invested in improving and enriching the quality of life for all in communities across Jefferson, Lewis, and St. Lawrence counties.
     Through partnerships with businesses and organizations, charitable foundations, and generous families and individual donors, the Community Foundation awards grants and scholarships from an endowment and collection of funds that benefit the region. Its commitment to donors helps individuals achieve their charitable objectives now and for generations to come by preserving and honoring legacies of community philanthropy while inspiring others.
     The Community Foundation is a resource for local charitable organizations, donors, professional advisors and nonprofit organizations. It also works to bring people together at its permanent home in the Northern New York Philanthropy Center to discuss challenges our communities face and find creative solutions that strengthen the region and make it a great place to live, work, and play.