Up to $20,000 Available to Support Tri-County Nonprofit Organizations
     WATERTOWN — The Northern New York Community Foundation's Youth Philanthropy Council welcomes grant requests from nonprofit organizations of all types for programs, projects, or initiatives that strengthen the quality of life in Jefferson, Lewis, and St. Lawrence counties. The council will evaluate each proposal for up to $20,000 in available grant funding.
     For consideration, completed grant applications must be submitted no later than Friday, Jan. 27, 2023. Council members will notify finalists selected to present proposals. The Council will recommend grants for funding to the Community Foundation's board of directors. This past round, the Youth Philanthropy Council awarded five grants totaling $20,000 in support to nonprofit organizations that serve tri-county residents.
      "We hope to receive proposals for a wide range of community programs and projects so students can see the diversity of endeavors happening across the tri-county region," said Rande Richardson, Community Foundation executive director. "In addition to this being a leadership program, it is also firmly rooted in increasing the awareness of the next generation of the work of charitable organizations that serve the North Country. To make the experience the best it can be, we need local nonprofit organizations to help."
     The Youth Philanthropy Council grant application may be completed online through the Foundation's Grant Lifecycle Manager (GLM) portal at nnycf.org/grants. All 501(c)(3) nonprofit organizations are invited to apply. Organizations should register as a user in GLM before applying. Nonprofits already registered with a GLM account should use existing login information to access and start the application. Contact Kraig Everard, Community Foundation director of stewardship and programs, kraig@nnycf.org, or 315-782-7110, with questions or to learn more.
      "We encourage any nonprofit in search of project funding to submit a grant application, as the review process stands to benefit the applicant and Council greatly. A diverse pool of applications allows each Council member to have a profound impact on our communities," said Jack Mangan, Youth Philanthropy Chair. "We're excited to support the services that help improve quality of life in the North Country."
     In addition to the competitive grant opportunity, the Youth Philanthropy Council is collaborating this year with the Jefferson Leadership Institute Class of 2017 to make available up to another $20,000 to support anti-poverty initiatives, including the "Getting Ahead" and "Bridges Out of Poverty" programs. Eligible nonprofits can apply for support for anti-poverty initiatives using the same application on the Foundation's grant portal.
     The Youth Philanthropy Council and its grant program is made possible by annual gifts to the Friends of the Foundation Community Betterment Fund and underwriting from Watertown Savings Bank, the Renzi Foodservice Charitable Foundation at the Northern New York Community Foundation, and RBC Wealth Management.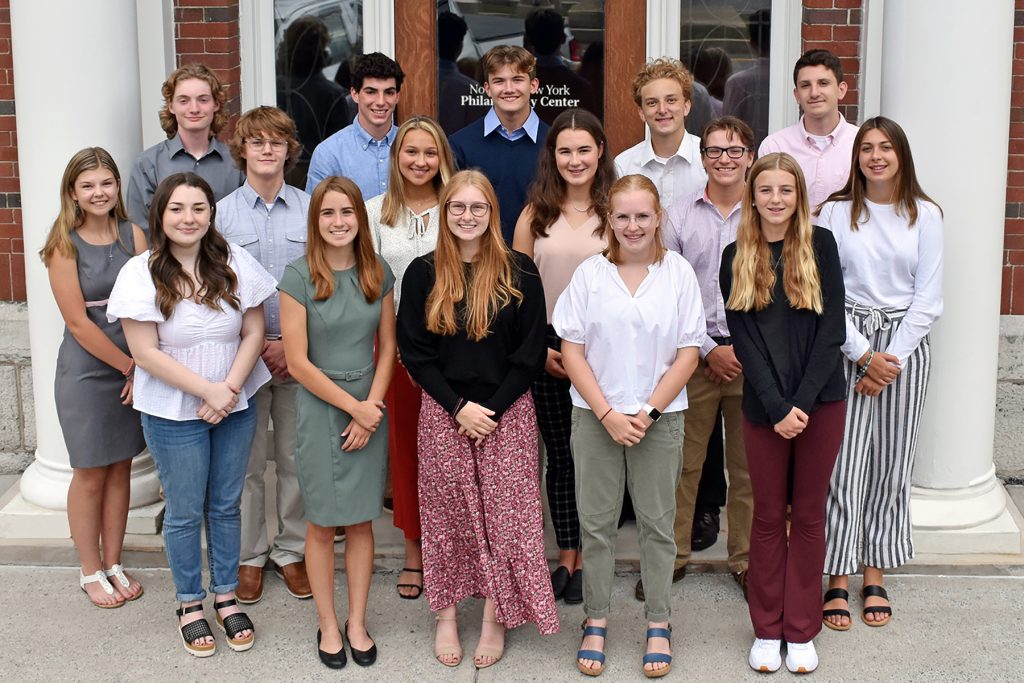 This year's Youth Philanthropy Council includes 16 student delegates, representing Immaculate Heart, General Brown, South Jefferson, and Watertown high schools. Representatives from each school district are:
     Immaculate Heart Central High School: Grady Petersen, senior. General Brown: Kaylee Fields, junior; McKenna Lee, junior; Olivia Wisner, junior. South Jefferson High School: Zachary Blevins, senior; Jack Buckingham, senior; Jack Mangan, junior; and Owen Newton, senior. Watertown High School: Trey Augliano, senior; Mia Kelly, sophomore; Zachary Kilburn, senior; Harper Lane, sophomore; Ella Smith, sophomore; Olivia Urf, junior; Maya Voss, junior; and Adelaide Weir, senior.
     The Youth Philanthropy Council was chartered in 2010 to promote positive youth development and engage young people in meaningful activities that build their skills while educating them about community philanthropy and its impact on Northern New York. Council members grow to become critical thinkers as they engage in lessons that may never be taught in a classroom.
     Since its inception 11 years ago, the Youth Philanthropy Council has awarded 122 grants totaling $205,070 in support to nonprofit organizations that serve tri-county residents, and nearly 150 students from seven different North Country high schools have served as Council members.
About the Northern New York Community Foundation
     Since 1929, the Northern New York Community Foundation has invested in improving and enriching the quality of life for all in communities across Jefferson, Lewis, and St. Lawrence counties.
     Through partnerships with businesses and organizations, charitable foundations, and generous families and individual donors, the Community Foundation awards grants and scholarships from an endowment and collection of funds that benefit the region. Its commitment to donors helps individuals achieve their charitable objectives now and for generations to come by preserving and honoring legacies of community philanthropy while inspiring others.
     The Community Foundation is a resource for local charitable organizations, donors, professional advisors and nonprofit organizations. It also works to bring people together at its permanent home in the Northern New York Philanthropy Center to discuss challenges our communities face and find creative solutions that strengthen the region and make it a great place to live, work, and play.